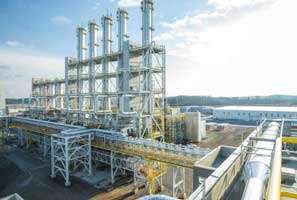 German silicones maker Wacker Chemie says it ended 2022 with new all-time highs for sales and earnings. Presenting its annual report recently, the Munich-based chemical company confirmed group sales of EUR8.21 billion in 2022, up 32% year over year. Substantially higher selling prices were the main growth driver. Sales also benefited from positive exchange-rate effects due to the stronger US dollar. On the other hand, overall volumes were down somewhat versus the previous year, dampening sales.
However, CEO Christian Hartel says the war in Europe will put a dent in Wacker's business this year. "The global economy has slowed significantly. Around the world, the economic and political environment remains volatile. High energy prices, especially in Europe, continue to impact our business," Hartel said. Wacker expects to post group sales of about EUR1.7 billion in Q1 2023 (Q1 2022: EUR2.08 billion).
In 2022, against the back of higher sales of 33% for Wacker Silicones, the company says funds are being invested, for example, in new facilities for intermediates and downstream products for liquid silicone rubber at the Adrian, Michigan site in the US and at Burghausen, as well as in high-temperature vulcanising solid silicone rubber at the Panagarh site in India.
Capacity was also increased at Nünchritz and at the subsidiary SICO Performance Material at its site in Jining, China. Further funds were invested in construction of a dispersion reactor and spray dryer at the Nanjing site in China.
Meanwhile, Wacker is also preparing to build a new silicone production complex at its Charleston site in the US state of Tennessee. In a first step, it is planned to build production plants for high-consistency silicone rubber and silicone sealants, used, for example, in construction applications. In addition, plants are to be built for the manufacture of intermediates. In further phases, production plants for other product groups could then be added, e.g. for silane-terminated polymers used as binders for formulating high-quality adhesives and sealants, liquid waterproofing systems and environmentally friendly wood-flooring adhesives.
The capital expenditures earmarked for the entire expansion project, which is scheduled to take several years, are estimated to be more than US$200 million. Wacker says it has been producing high-purity polysilicon for the semiconductor and solar industries in Charleston since 2015. Since 2019, the site has also been producing HDK brand pyrogenic silica.
Hartel said that Wacker had the financial strength needed for such capital expenditures, with more than EUR400 million per year to be invested in Wacker's chemical divisions – Wacker Silicones and Wacker Polymers, over the next few years.