Goodyear Tire & Rubber Company has introduced racing tyres with the first real-time intelligence capability to record tyre pressure and temperature to be featured on the Nascar Next Gen Chevrolet Camaro ZL1 Garage 56 entry in this year's 24 Hours of Le Mans held on 10-11 June 2023.
The Goodyear Racing tyres are outfitted with an innovative passive, non-battery, sensor cured into the tire during production. This sensor is powered by Goodyear SightLine, Goodyear's intelligent technology that will provide real-time tire data to Hendrick Motorsports as the race unfolds. Engineers and drivers will be able to leverage the tyre intelligence data to understand tire pressure and temperature to optimize the vehicle's performance by adjusting the car and driver settings in real time.
Beyond the tyre intelligence application, Goodyear has also engineered three types of tyres for the Nascar Next Gen Chevrolet Camaro ZL1 Garage 56 entry to withstand any potential weather conditions of the 24 Hours of Le Mans race, including:
. Racing tyres for dry conditions that help provide high levels of endurance and grip allowing the car to compete for the full 24 hours of Le Mans race;
. Intermediate wet tyres for mist to light rain conditions to help the car perform at its maximum potential in inclement weather; and
. Full wet tyres for heavy rains featuring a unique tread design and tyre construction to help channel water out of the tyre surface's contact patch while using a softer tread compound to help maintain grip when the temperature of the racetrack is cooler.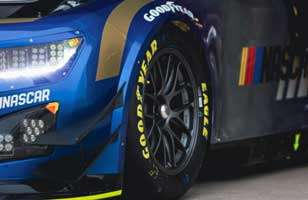 All of the Goodyear tyres for the Nascar Next Gen Chevrolet Camaro ZL1 Garage 56 entry were built by hand in Akron, Ohio, at Goodyear's Innovation Centre Manufacturing plant, Goodyear's premier race tyre production facility.
Seven-time Nascar Cup Series champion Jimmie Johnson, former 24 Hours of Le Mans winner Mike Rockenfeller, and 2009 Formula One world champion Jenson Button will share the driver's seat of the Nascar Next Gen Chevrolet Camaro ZL1. The drivers and multiple engineers have evaluated the Goodyear tyres at 10 tests over eight sites in the past 12 months, resulting in more than 7,500 miles tested in preparation for the ultimate endurance race.
The Garage 56 entry is a partnership between Nascar, Hendrick Motorsports, Chevrolet and Goodyear – the winningest team, manufacturer and tyre in the sport's 75-year history. Garage 56 is a special single-entry class set aside from the race organisers for concept cars that demonstrate innovative technology of the future. In addition to the Garage 56 entry at 24 Hours of Le Mans, Goodyear is also the exclusive tyre supplier for the Le Mans Prototype 2 (LMP2) class.