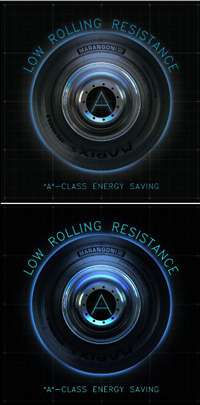 Tyre maker Marangoni says that it has manufactured a Ringtread tyre that achieved an "A" class energy saving level in the same test used for new tyres (ECE.R 117).
This result was achieved by applying a Blackline tread ring with an optimised design for low rolling resistance on a high quality casing, which featured the best rolling resistance class already in its first life. Retreading took place at Marangoni's plant in Rovereto, Italy, where the group's headquarters and R&D centre are also located.
The ring used for this test was manufactured by the tyre maker using a special compound created ad hoc for the occasion. This pivotal element, combined with the specific performance features of the Blackline RTL FE tread pattern and the peculiarities offered by the Ringtread system (first and foremost no splices and no structural deformation), made it possible to create a retreaded tyre capable of achieving "A" class rolling resistance according to the same standards used for new tyres.
The result of the test, carried out by the independent test laboratory Prüflabor Nord, has been said to have met with a "very positive response" from industry experts, as few new tyres can boast such a satisfactory result.
Chairman Vittorio Marangoni said: "We will continue to invest in research and development of advanced technologies in the tyre retreading industry. We want to offer end users products that combine high performance with an increasingly smaller environmental footprint. This achievement further spurs us on in our commitment to promoting environmentally friendly, high-performance and state-of-the-art solutions."