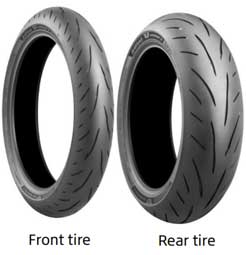 Tyre maker Bridgestone Corporation recently announced that the launch of its Battlax Hypersport S23, a new sports radial motorcycle tyre for street use, is scheduled for January 2024.
The S23 will be the latest "Dan-Totsu" product in Bridgestone's Battlax premium motorcycle tyres, for which it celebrated the 40 anniversary of its establishment in 2023.
In addition to improvements over its predecessor, this next-generation sports tyre will feature even more levels of dry grip performance when riding on circuits or cornering on mountain roads.
Moreover, the S23 employs a newly designed compound in the edge portion of the tread that makes contact with the road when banking at sharp angles to maximise edge grip when cornering and to thereby allow riders to take their sports riding performance to the next level.