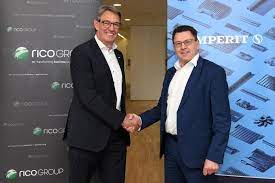 Austrian polymers firm Semperit says it has successfully completed the acquisition of Rico Group, a liquid silicone rubber (LSR) moulder and mould maker. After all approvals were obtained, the closing took place on 31 July 2023. Rico generated revenue of approximately EUR90 million in the financial year 2022 and employs more than 500 people in Austria, Switzerland and the US.
"The acquisition of Rico is another important step in implementing our growth strategy with a focus on global leadership, innovation and technology. Semperit thus achieves technology leadership in liquid silicone and high-end mould production and strengthens its industrial core business. This goes along with servicing high-growth sectors such as health care and industrial household applications. The acquisition is value-enhancing and also increases our presence in the North American market," says Semperit CEO Karl Haider.
Rico's growth strategy, which includes expanding production at the Austrian site in Thalheim near Wels as well as expansions in the US and Switzerland, will remain unchanged.
Rico acquired US based LSR moulder Simtec in 2016. Other companies within the Rico Group include Swiss firm Silcoplast AG and HTR Rosenblattl in Austria.
In June 2022, Rico broke ground on a new plant in upper Austria covering more than 10,000 sq m with production, warehouse and office space, which will eventually require 100 addition employees.
According to international studies, the market for silicone products in Western Europe and the US will grow significantly by around 7% annually until 2027. The market volume currently (2023) amounts to around US$8 billion.
Rico was founded almost 30 years ago in Thalheim near Wels. The company specialises in the field of mould production and the production of precise liquid silicone components and offers customised integrated solutions in high volumes. Rico covers the complete value chain in the field of liquid silicone – from prototype development to mould manufacturing and large-scale production (incl. clean room production).