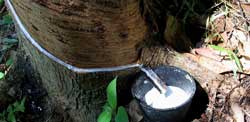 Rain is thought to bring good luck and blessings, but some rubber farmers in Asia's major rubber-growing regions would rather avoid it.
The global supply of NR is expected to remain tight in the short term, according to ANRPC's Market Intelligence report for November 1-15, 2021, owing to the loss of tapping days and other forms of disruption caused by extreme weather conditions prevailing across Asia.
The extended rainy season, torrential depression rains, and floods reportedly afflicting Asia's major rubber-growing regions are expected to reduce global supply.
According to the report, once the impact of the recent depression rains and floods is assessed by the respective countries, specifically in Thailand, Indonesia, India, Malaysia, and Sri Lanka, global NR production is likely to be revised downward.
As per ANRPC's estimate in "Natural Rubber Trends, October 2021," global production in 2021 is expected to fall 192,000 tonnes short of consumption (World Production 13.836 million tonnes. World Consumption 14.028 million tonnes). Due to the damages caused by extreme weather, global production in 2021 is expected to be lower than the estimate released at the end of October. More specifically, in 2021, the gap between global production and global consumption would be much larger than 192,000 tonnes.
Meanwhile, the outlook for NR demand from the US, the EU, India, Japan, and the ASEAN-5 has improved further, owing to the resumption of economic activities across a wider range of sectors and progress made in removing travel restrictions, including international travel in the case of a few countries. Despite the constraints imposed by the chip semiconductor shortage, India's automobile manufacturing sector, particularly the commercial vehicle sector, has returned to pre-pandemic levels.
In October 2021, retail sales of heavy commercial vehicles (HCV) in India increased by a hefty 121.6% when compared to October 2020. (Compared to October 2019, the HCV sales during October 2021 were down 10.5%).
However, the preventative reintroduction of control measures in parts of China, in anticipation of a possible pandemic resurgence during the winter season, may have an impact on the country's short-term demand outlook for NR.
High raw material costs, particularly for oil-based raw materials, and rising logistics costs are expected to continue to thwart the global auto-tyre manufacturing industry. Automobile tyre manufacturers, on the other hand, frequently deal with this by passing on the additional cost to their customers.
Nonetheless, the industry is expected to see a silver lining in the form of market growth over time, owing to the fact that further relaxation of Covid19-related restrictions, reopening of international borders by several countries, and a broader resumption of economic activities would have significantly contributed to the transportation sector's revival and the demand outlook for NR, according to the report.