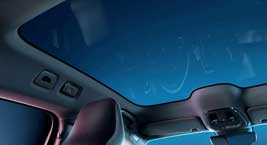 Spanish automotive parts supplier Grupo Antolin has developed what it says is the first headliner made by thermoforming a PU foam based on materials made from plastic waste and end-of-life (ELT) tyres.
Antolin partnered with German chemical firm BASF on the material's manufacturing process and has validated and introduced the material in a premium European electric vehicle that has just been launched on the market, it adds.
The headliner part looks like a standard headliner and performs exactly the same, Antolin says, and contains around 50% recycled material content. It also claims that 100% of the textile material, 70% of the core foam, and 70% of the plastic sunroof reinforcement frame have been obtained from residues that couldn't be recycled in any other way and would have been disposed in landfills.
"This project is a step towards a more sustainable car interior trim and a huge leap for the wet PU technology. A technology that has demonstrated to be the most competitive in terms of cost and quality, fulfilling at the same time the most demanding specifications from our clients," says Enrique Fernandez, Advanced Engineering Director, Overhead Systems BU.
"We are going one step further by deploying the strategy among our clients worldwide. Our next project featuring recycled core PU foam will be unveiled in 2022 and it'll be manufactured using renewable electricity. Our commitment is to reduce the generation of waste and emissions in all our production processes," highlights Javier Blanco, Grupo Antolin's Sustainability Director.
As an overhead systems supplier, Grupo Antolin focuses on different methods and technologies to recycle interior trim parts as part of its objective to reduce the carbon print. In this sense, mechanical recycling is another well-known procedure that helps to reintegrate plastic products into the production cycle. Antolin says that this type of recycling is currently being used with thermoplastic structures. With thermoset materials, mechanical recycling is not possible in many cases, though.
Antolin has developed technologies that allow to process a wider quality range of recycled plastic sources that are transformed into automotive parts using a process called Novaform.
It further says it has also introduced in serial production in Europe to recycle the thermoset run-offs and technical scrap from headliners and transform them into construction boards. These boards are currently being used in Europe, Africa, and South America. The product, branded Coretech, is capable of transforming a composite thermoset product (that couldn't be recycled in other ways) into a board with insulation and endurance properties.