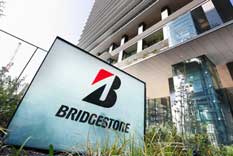 Bridgestone Corporation announced that it will consolidate its plants for advanced chemical products in Japan, which are now manufactured in nine plants, namely, Kita-Kanto, Totsuka, Komaki, Mie, Yoshida, Tosu, Shikoku, Gifu, and Gotemba, owned by its group company, Bridgestone Diversified Chemical Products Co., Ltd. (BDCP).
The initiative is a part of the company's global expense and cost structure reformation in the Mid Term Business Plan (2021-2023), announced on February 16, 2021.
Bridgestone has been executing diversified products business restructuring based on its mid-term plan. The company said that it has thoroughly considered and evaluated the future of advanced chemical products business and decided to consolidate plants. This initiative will contribute to the reinforcement of the business structure.
The plants to be closed are Shikoku, located in Kita County, Kagawa Prefecture will be closed in the 3rd quarter of 2022; Gifu in Anpachi County, Gifu Prefecture will be closed in the 1st quarter of 2023; and Gotemba plant in Gotemba City, Shizuoka Prefecture to be closed by the 2nd quarter of 2023.
The employees of three plants to be closed are highly skilled and experienced according to Bridgestone, adding that all current employees are to continue to work as members of BDCP. Bridgestone is also working closely with customers, suppliers, and local communities to minimize the impact as much as possible.
The Bridgestone Group said it will reinforce its portfolio management in line with the changing business environment, to evolve to a sustainable solutions company which aims to continuously provide social value and customer value. Bridgestone expects the impact on its consolidated financial results for 2021 to be minor.