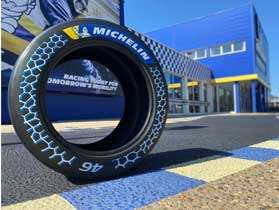 French tyre manufacturer Michelin says it has produced a new version of its motorcycle racing tyre, with an even higher share of environmentally sustainable material ahead of the MotoE World Cup motorcycle racing series. The new version consists of an average of 40% sustainable material, a significant portion of which is recovered carbon black supplied by Enviro. At the same time, Michelin adds it has taken another step towards mass production of its tyre with improved sustainability performance.
This is the fourth season of the MotoE World Cup electric motorcycles racing series, and during the premiere Michelin will take the opportunity to introduce another sustainable racing tyre developed specifically for MotoE. Once again, the recovered carbon black in the tyre has been supplied by Enviro.
"It is, of course, very exciting that Michelin is continuing to improve the sustainability performance of its tyres using our recovered carbon black," says Thomas Sörensson, CEO of Enviro.
The average content of recovered material in the new version of the racing tire, calculated as the average of the front and rear tyre, amounts to 40%, compared with 36.5% in the previous version. Having manufactured more than 1,500 tyres for MotoE, Michelin also notes that the company has proven that it has successfully taken the critical step from the prototype stage towards mass production of sustainable tyres.
"If our recovered, environmentally sustainable material is to make a real difference, it needs to be possible to use it in large-scale industrial processes. With this motorcycle tyre, Michelin has taken a critical step towards mass production and demonstrated that both its goal of completely environmentally sustainable tyre manufacturing by 2050 is a realistic ambition, and that our material will play an essential role in this transition," says Sörensson.