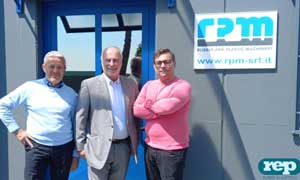 Machine company REP international says it has expanded its network and product line through the acquisition of a majority stake in the Italian company RPM Srl., effective May 2022.
As a vertical rubber injection machine maker and with the integration of RPM into REP, it adds on a compact range of horizontal hydroelectric machines, which have been proven in the competitive Italian market, according to REP.
Now with support of REP's extensive international sales and service network, RPM also gains access to new markets globally.
RPM's founding managers Gianfranco Inverardi and Marco Inverardi will remain shareholders and in the management of RPM to ensure a successful integration into REP. Furthermore, they will support the global market expansion.
The competence centre for the horizontal machinery business will remain in the historic site in Paderno Franciacorta (BS), Italy.
With this latest acquisition, REP says it will be the first company that can offer the complete range of machines starting from compressions presses for rubber and composites, vertical and horizontal injection moulding machines for rubber, liquid silicones and TPVs and machines to de-vulcanise rubber waste.