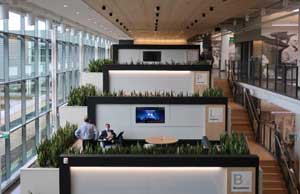 German silicones maker Wacker Chemie has opened a new regional Innovation Centre based in Michigan, US. The research building, which will develop high-margin biotech and silicone specialties for high-tech applications in key industries, will also serve as the headquarters of Wacker's subsidiary Wacker Chemical Corporation, which is responsible for the group's business activities in North and Central America.
The research campus is part of the company's growth campaign announced at the end of March. Wacker adds it intends to significantly expand its market position in the US and other target regions through investments in research and development, additional production capacities and accelerated growth. The investment for the research building, which also acts as an administrative centre, amounts to around EUR40 million.
On the new campus located in Ann Arbor, Michigan, on a 70,000 sq m site, biotech and silicone experts who have previously conducted research at different locations will be able to develop products for the North American market under one roof. The building houses more than 20 technical and analytical laboratories. The equipment for the development of new products and applications is state-of-the-art, according to Wacker.
"After China, the United States is the largest market for chemicals and silicone products," said Robert Gnann, President of Wacker's silicones business division, at the official opening. "Our new Innovation Centre is an essential prerequisite for serving customers in North America with tailor-made silicone specialties, which are used in a wide range of application fields," he continued.
With the decision to pool and expand its regional R&D expertise in Ann Arbor, the company is fully committed to growth, Gnann said.
Wacker says it is one of the few silicone manufacturers that produces pyrogenic silica in addition to silicones. Pyrogenic silica is an important filler for the production of high-temperature vulcanising silicone rubber for the automotive, electrical, health and household industries.
It produces pyrogenic silica from the by-products of polysilicon production at its integrated site in Charleston, Tennessee. Here, too, the group is planning to invest in silicone production in the coming years.
The focus of the work at the technical centre is on special products for innovative and above all sustainable technologies and applications. Topics range from bio-technology to silicones: skin-sensitive silicone adhesives for wound care and portable medical devices, silicone-based defoamers, which with control foaming enable significantly more energy-efficient process control, and novel cyclodextrin applications for food supplements are just a few examples of the projects scheduled at the new facility. Circular economy and the recycling possibilities of silicones will also be a major topic.
The 13,000-sq-m building also houses the administrative headquarters of Wacker Chemical Corporation (WCC). In mid-April, management, sales and administration – more than 200 employees – moved to Ann Arbor from the previous company headquarters in Adrian, Michigan. The production site, where Wacker has been producing silicones for more than 50 years, continues to manufacture silicone fluids, silicone emulsions and silicone rubber.