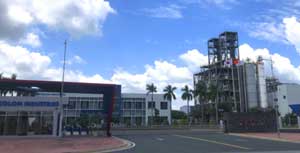 South Korea's Kolon Industries Inc. has completed the expansion of its tyre cord production plant in Binh Duong Province, Vietnam, and is speeding up to boost its global competitiveness.
The company said it has increased 19,200 tonnes/year capacity of PET (polyester) tyre cord production from 84,000 tonnes to a total of 103,200 tonnes. This expansion is its second investment since the first expansion of 16,800 tonnes of PET tyre cord Vietnam plant in 2018, and is expected to greatly improve the production efficiency once again.
Tyre cords are high-strength fibres used as reinforcing materials for tyres, which serve as frames for tyres and keep them in shape. The cords are important as they affect the safety and performance of automobiles. Depending on the raw materials, there are PET, nylon, rayon, and steel tyre cords. Kolon Industries produces PET cords, which are mainly used in passenger car tyres.
The plant is located in Bau Bang Industrial Park, Vietnam. It brought in the latest production facilities and thus owns a consistent production system from yarn spinning to weaving, processing, heat treatment, and finished products. The Vietnam plant is currently in full operation after quality approval from global tyre manufacturers.
Kolon says the expansion is in line with the growth of the global tyre market. Demand for replacement (RE, Replacement Equipment) tyres increased last year, and shipments of new vehicle (OE, Original Equipment) tyres increased this year. According to an automobile market research agency, the tyre market is recovering to its pre-Covid-19 level from this year and is expected to grow at an annual average of 4%.
Kolon Industries has formed partnerships with major global tyre companies since it started its tyre cord business in 1973. Following the establishment of a new factory in Nanjing, China in 2004, the company secured international production bases with the best technology and price competitiveness through this continuous investment in Vietnam.