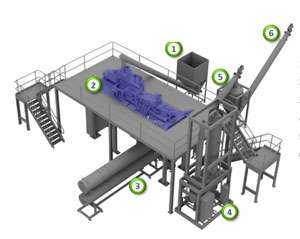 UK-based WF Recycle-Tech, with a patented pyrolysis system for recycling end-of-life tyres, is riding on the technology of machinery firm Farrel Pomini that invested in the company in 2021. Currently, WF has a pilot plant in the UK, which demonstrates the pyrolysis technology with up to 500 kg/hour of end-of-life tyre crumb.
At the upcoming K2022 show in Dusseldorf, Germany, alongside parent company HF Mixing Group and Farrel Pomini, WF will display its system that incorporates a Farrel Continuous Mixer (FCM) in the process.
The company says it leverages the strength of the FCM technology as well as Farrel Pomini's engineering and manufacturing capabilities to create a solid platform within the pyrolysis sector and to close the tyre recycling loop.
Farrel Pomini's investment in WF provides an entry into the growing end-of-life tyre recycling equipment market.
Furthermore, the R&D team of Farrel Pomini is working to optimise compounding applications utilising recovered carbon black to offer existing and potential customers support with processing materials to provide a more sustainable solution to their compounding needs, it adds.
Farrel Pomini is the business unit of HF Mixing Group focusing on continuous mixing technology and compounding systems for highly filled and temperature sensitive polymer applications. In addition to the US, it has locations in the UK, Italy and Singapore.