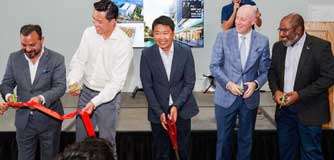 Chinese LSR moulding firm Junchuang's North American subsidiary is expanding its operations to Fort Worth, Texas, with a 55,000-sq-ft manufacturing/industrial facility that will serve as its R&D hub. The US$21 million investment is planned for the facility and is expected to generate more than 120 jobs by 2025, catering to the electric vehicle (EV) market.
"Fort Worth offers a strategic location with a robust business environment and a skilled workforce," Vinson Yang, President/CEO of Junchuang North America Inc., said in a statement. "The city's commitment to supporting technological advancements and sustainable solutions aligns perfectly with our vision. We are excited to establish our presence here and contribute to the growth of the local economy."
The model plant is JCNA's North American R&D hub and will work on cutting-edge technical solutions to support the EV market, the company said.
With a focus on higher tonnage injection moulding, complex insert moulding, and LSR assembly for EV power electronics, drive units, and battery systems, Junchuang said its products demonstrate a commitment to innovation and sustainability.
Instead of traditional materials like steel, Junchuang is leveraging plastic.
JCNA said it provides adaptable plastic parts that align with the lightweight automobile trend helping achieve "carbon peaking" and "carbon neutrality" goals.
On the business side, JC Group has already built strong ties in the EV market. The company says it caters to established brands like Jaguar, Land Rover, Ford, and Mazda. Additionally, they're also a go-to supplier for leading EV producers not just in the US, but also in Europe and China.
The company credited the support and collaboration of the city of Fort Worth's Economic Development team and the Fort Worth Economic Development Partnership (FWEDP) in realizing the expansion. The company said that FWEDP played a critical role in facilitating and managing various aspects of the development process for JCNA.
Robert Allen, CEO of the Fort Worth Economic Development Partnership says the expansion is a product of team synergy.
Allen credits collaborative efforts with the city's Economic Development team and Stream Realty for "paving the way to this significant investment." And the impact? It promises to "enhance our region's manufacturing capabilities and create high-quality jobs," he said.
Fort Worth Economic Development Director Robert Sturns says the facility is another sign of the city's importance in the industry.
"The North Texas region is becoming an important hub for new forms of sustainable energy, and that includes electric vehicles and the technology that powers them," Sturns said in a statement.
"With MP Materials coming online soon here in Fort Worth and the nearby GM assembly plant in Arlington, our city is well-positioned to be a key player in this evolving industry, and we join the FWEDP in welcoming JCNA to the area."
With its expansion into Fort Worth, Junchuang North America Inc. said it wants to strengthen its presence in the domestic EV market, contribute to sustainable practices, and make a positive economic impact in the region.
Suzhou Junchuang Auto Technologies Co. Ltd. was established in 2005 and is based in Mudu Town, Suzhou City, Jiangsu, China.