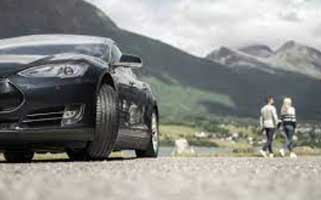 What started as a niche market has grown into an interest of the masses, as the number of electric vehicles (EV) bought each year keeps growing globally. With the expanding EV market, tyre design is also affected by the electrification of driving. Nokian Tyres says it has designed and tested tyres with electric cars in mind for more than 10 years. As proof of compatibility for EVs, Nokian Tyres introduces a new Electric Fit symbol for its Nokian Tyres branded premium tyres.
The symbol indicates that Nokian Tyres tyres can be equally fitted on internal combustion engine and electric cars providing safe and high-quality product performance regardless of the car's powertrain.
"For years, we have developed and tested our products to be compatible, premium options that meet the needs of electric car drivers. As the electric vehicle market picks up speed, the new symbol serves as proof of these decade-long efforts," says Jukka Kasi, Nokian Tyres Senior Vice President of Products & Innovations.
The new symbol will be used globally to communicate that the premium tyre range is electric vehicle compatible and distributed in all relevant channels to help tyre professionals and consumers identify Nokian Tyres' products.
Tyres for EVs need to carry heavier loads because of the extra weight of the battery. They must also instantly respond to the high-torque power of the vehicle and be reliably controlled in any condition or situation.
"Our starting point is that all our products make driving safe no matter what car you drive. Testing has remained a key to ensure tire performance is seamlessly integrated with electric vehicles. The changing powertrain of the vehicles has not actually greatly changed our focus. In addition to advancing safety, we have always developed other tire properties such as low rolling resistance, durability, and comfort on a high level. With electric cars, these properties have become even more important as drivers become more aware of them," Kasi says.
In addition to the high-quality premium products suitable for all vehicle powertrains, select Nokian Tyres special EV tyres feature the Nokian Tyres SilentDrive sound absorbing technology, making the interior cabin noise quieter to match the silence of electric cars.
As a result of the groundbreaking R&D work, Nokian Tyres launched the world's first winter tyre designed specifically for electric cars, as early as 2014. At the time of the launch, the tyre was also the world's first winter tyre with an A energy rating for rolling resistance. In 2012, the same year Tesla introduced the Model S, Nokian Tyres achieved the world record for driving fastest on ice (252.09 km/hr) with an electric car. In 2020 the company introduced the first studded tyre in the world designed for electric cars.
Early electric vehicles were purchased by tech enthusiasts and car connoisseurs, but as electric vehicles become more common, a growing number of consumers are drawn to them. Many established car brands are focusing more heavily on EVs as an alternative to internal combustion engines, especially amidst the growth of car brands exclusively devoted to EVs.
Electric vehicles are often seen as one of the solutions to lowering the CO2 emissions from driving and mitigating the effects of global warming.
"The focus is expanding from low rolling resistance and energy efficiency to sustainable materials and production. We are building the world's first zero CO2 emission tyre factory in Romania and believe it will set a new standard for the entire tyre industry," says Teppo Huovila, Nokian Tyres Vice President, Quality & Sustainability.
Nokian Tyres has already introduced the Nokian Tyres Green Step concept tire with 93% of its materials being recycled or renewable. The target is that by 2030, 50% of all materials used in the company's products will follow suit.