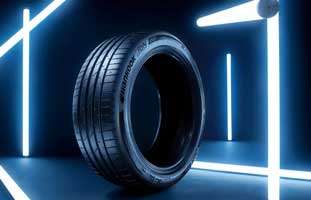 South Korean tyre company Hankook Tire & Technology has introduced its exclusive technology system for iON, a tyre brand designed for electric vehicles (EVs). Based on the internal test conducted by Hankook Tire, the iON demonstrates up to 18% reduction in cabin noise, up to 15% increase in tyre life, up to 10% increase in driving stability, and up to 6% increase in MPGe efficiency compared to tyres for vehicles with an internal combustion engine. These results prove the importance and necessity of developing specialised technologies optimised for electric vehicles.
The so-called iON Innovative Technology comprises four key tyre technologies designed with electric vehicle attributes in focus including Sound Absorber (Noise), Super Mileage (Wear), Perfect Grip (Grip), and Extreme Lightness (LRR).
The four core technologies will subsequently be divided into 15 detailed technology components, providing a more organised and streamlined R&D process.
Hankook Tire says it intends to proactively employ this new technology system in customer communication. Through clear explanations about the distinct attributes of EVs, the necessity for dedicated tyres, and the specialised electric vehicle technology embedded in iON, the company aims to strengthen its communication with customers and promote its technology, which leads the electrification paradigm in the mobility industry.
The core of the system is composed of 58 commercialised patents technologies that have been integrated into iON. Among these, a total of 9 patents have been applied to iON, including 'Noise Guard,' the thick, vertical tyre groove on the tyre's surface that utilises Knurling technology for noise reduction.
Meanwhile, the mileage enhancement technology sector holds a total of 11 patents, including ProDurable Compound, designed to extend tyre life by combining an advanced material, and Round Even, which renders a more uniformed road contact pressure.
A total of 23 patented technologies have been implemented to enhance tyre grip and handling showcasing cutting-edge technologies like Grip Claw, a material utilising ultra-thin-film 3D Kerf technology, and ProGrip Compound, which combines high silica concentrations with eco-friendly materials for improved grip performance.
Furthermore, 15 patented technologies have also been implemented, including ProCoupling Compound, designed to enhance rolling resistance by increasing silica dispersion through optimal compound combinations.
Introduced to the European market in May last year, iON expanded its reach to the Korean and North American markets in September and December respectively.
In May 2023, iON made its launch in China, the world's largest EV market.