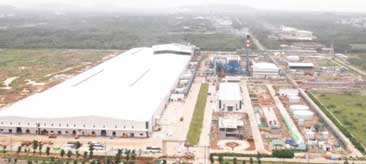 Yokohama Rubber Co says that it is expanding passenger car tire production capacity in India to meet the increasing demands from the local market. With an additional investment of US$82 million, the company looks to increase its annual passenger car tire production capacity in India with Yokohama India Pvt. Ltd. (YIN), its local passenger car tire manufacturing and sales subsidiary, from the current 2.8 million to 4.5 million tyres.
This new capacity will be installed within premises of the Visakhapatnam Plant in the eastern part of India. The new line is scheduled to start production in the fourth quarter of 2024 and will be capable of building passenger car tyres up to 22 inches.
YIN has been in operation since 2007 and has contributed to a sharp increase in sales of Yokohama branded tyres in the Indian market. The tyres sold in India are specifically designed for Indian driving conditions. By producing quality tyres that meet local market needs and expanding its sales channel, YIN has grown rapidly and has made India one of Yokohama Rubber's most important markets.
India's automobile industry has been expanding rapidly, with its total automobile sales volume in 2022 surpassing that of Japan, making India the third largest automobile market in the world.
Yokohama Rubber expects this growth to continue in the future. To support this growth, the company has steadily expanded YIN's annual production capacity—from an initial 700,000 tyres in 2014 to 1.53 million in 2019 and 1.96 million in 2021.
From January 2023, YIN has been operating its plant at an annual capacity of 2.8 million.