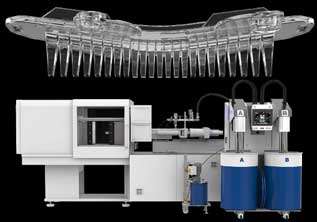 Working hand in hand with US materials firm Dow, Austrian mould technology provider Elmet says it has fine-tuned the manufacturing technology for the main optics of LED headlights with ADB (Adaptive Driving Beam) functionality to suit it for use with a grade of LSR specifically developed for optical applications. It adds that a consistently high part quality is ensured by a combination of Elmet's high-precision SMARTmix TOP 7000P dosing system with the mould's SMARTshot E cold runner system, in which the needle is positioned servo-electrically when the nozzles open and close.
Elmet adds it helps to bring such projects to successful fruition by developing turnkey systems, drawing on its wide-ranging LSR expertise to ensure efficient material selection, its own mould-making facilities using proprietary cold runner and dosing systems and its many years of experience in optimizing and automating injection molding processes. Development times are kept short by simulation of the flow processes for mold cavity filling.
The SMARTmix TOP 7000P dosing system is the first commercially available dosing pump designed to be FDA-compliant, which ideally suits it to high-purity optical LSR grades. The volumetric meter's high measuring accuracy of 0.0156 ml per count pulse ensures high mixing quality and thus process consistency. Virtually abrasion-free delivery also rules out any contamination of the LSR by abraded metal from the pump which would impair functionality.
Elmet's SMARTshot E valve gate cold runner system has a compact servomotor for moving and positioning the nozzle needle for precise control of sprueless cavity filling. As a result, needle opening can be set in the µm range and the injection process can be much better balanced than is possible with stepper motor drives. And thanks to its ability to ensure mould gaps of less than 10 microns, no flash is formed on the optical components despite the material's very low viscosity.
The result of the current collaboration with Dow is a turnkey system for manufacturing ADB multiple light guide lenses from the optical LSR grade Silastic MS-5002. ELMET's contribution included designing the sophisticated mould for injection moulding the geometrically highly complex parts. The part's volume is around 35 cu cm, corresponding to a weight of approx. 37.5 g, based on the LSR's specific density of 1.07 g/cu cm. Together with the widely varying, sometimes large cross-sections, this results in challenging cycle times for LSR mass production.
Elmet tailored the mould's cold runners to the selected LSR grade's viscosity and thus flow behaviour, so ensuring maximum process stability and providing uniform cooling. The mould inserts, made from a special steel alloy, were heat-treated and polished, which means that the mold surface is perfectly transferred onto the surface of the LSR part, so making it possible to meet stringent optical industry requirements for both the light guides and the outcoupling sections of the lens.
The result is an innovation potential arising from a combination of Dow's optical LSR with Elmet's processing know-how and its SMARTshot cold runner and SMARTmix dosing technology.
As Development Manager Thorsten Häuser explains, "Manufacturing ADB optics is highly complex and requires everyone involved in a project to share all their experience. Working with Dow has let us considerably expand our understanding of the close interaction between optical LSR formulations, mould-making and the processing of these LSR grades by injection moulding. We are convinced that our combined technical expertise in silicone chemistry, LSR processing and optics will, into the medium term, remain key to unlocking high added value along the automotive LED headlight value chain with silicone light guide lenses."