Sumitomo Rubber Industries has announced a collaboration with Sumitomo Riko Company and Sumitomo Electric Industries as well as US-based carbon recycling firm LanzaTech Global. This initiative is designed to further the development of recycling technologies, paving the way for a circular economy.
In November 2022, Sumitomo Riko announced a joint development agreement with LanzaTech Global, which is known for its expertise in carbon capture and utilization (CCU) technology. Sumitomo Rubber says that Sumitomo Rubber, along with Sumitomo Electric, will be taking part in this joint development.
The three companies will join forces with LanzaTech in joint development, aiming to pioneer groundbreaking technologies that enable a circular economy, transforming waste materials, including rubber, resin, urethane, and metal, into valuable resources.
The firms aim to leverage LanzaTech's biorecycling technology to turn waste materials like tyres into isoprene, which can be used as new rubber materials. This will be achieved by gasifying the waste materials and purifying the resulting gas, and then putting them through a fermentation process that transforms the gas into new raw materials.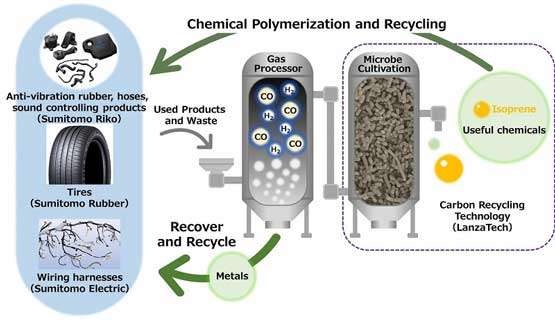 The end goal, working alongside raw material manufacturers, is to explore the feasibility of establishing a recycling technology that enables the reuse of isoprene as materials for rubber and resin. They are also contemplating the idea of recycling the metals recovered during the gasifying process and reusing them as raw materials.
The group manufactures and sells a diverse selection of tyres globally with annual sales total 110 million (as of 2022). As new tyres are manufactured and sold, a significant number of tires are thrown away every year. Many tyres that get discarded in Japan are later incinerated, with the generated heat being put to practical use.
Thus, it is focusing on recovery and recycling initiatives in its tyre business and to create a system that transforms discarded tyres into useful resources. This collaboration is an integral part of its research and development in recycling technology.