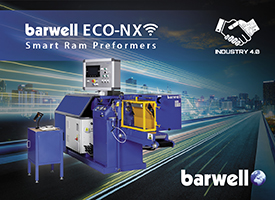 Rubber processing machinery maker Barwell Global Ltd has recently introduced the next generation of Barwell Preformers. The ECO-NXrange of Industry 4.0 Smart Preformers will help rubber processors become more efficient through data analysis and process-driven technology.
The modern factory is moving to what is known as the fourth industrial revolution (or Industry 4.0). A smart factory is an environment where automation, data collection, and instant analysis ensures that the monitoring of machine performance improves production quality and efficiency, as well as enabling predictive maintenance and instant troubleshooting to take place.
The next generation of Barwell Preformers will transform rubber processors' preforming by using a safe Internet Gateway and advanced technology, allowing machines, devices, sensors, and people to connect and communicate with each other.
The Barwell ECO-NX range provides process engineers with vital information and data from all points in the manufacturing process to aid decision-making and identify key areas that require development. The range will also provide operators with alarms, production history, error logging, live tracking, service reminders, daily checks, and document storage to make daily tasks simple and trouble-free.
Another major benefit to owners of ECO-NX machines is the ability to allow direct remote access to the machine's control panel for solving urgent problems from anywhere in the world. There is also the functionality to connect via an IP camera to view the machine remotely providing instant support to help machine owners.
The range also includes improved safety features and panelling to keep operators safe during their working day and to exceed international safety standards. Existing Barwell owners will still enjoy all the features that Barwell has developed and pioneered over the years, including the proven Barwell scales feedback system for automatic weight adjustment to ensure rubber blank control, barcode reader, extended centre for easy cleaning, reversing conveyor, large color touch-screen operator interface, quick product set-up due to a 2,000 product database and an auto cycle option, and of course, the renowned Barwell production accuracy, saving material wastage and cost.
Nicholas Ballinger, APAC Sales Manager commented: "This is an exciting and groundbreaking development for the production of rubber blanks. It is key for factories to have efficiency, quality, and safety at the forefront of their planning, and the ability to make decisions using actual data is essential. The ECO-NX series makes this possible and will be a key part of any smart rubber factory in the future."