Machinery
Momentive Performance Materials will have flameretardant, dark grey LSR grades NL6830FR and NL6850FR that meet the UL94-V0 requirements at 1 mm thickness for the production of hard-soft composites, and grades that crosslink at low temperature, for the production of thick-walled parts. Possible applications include seals in the intake area of combustion engines and O-rings, for use in sensor technology and in the drive area of EVs requiring flame resistance.

Silopren LSR 2725/40 is a further developed, self-lubricating grade for rigid-soft composites where engineering plastics including PBT are overmoulded, with integrated sealing or damping. The third generation of its LTC-LSR (Low Temperature Cure Liquid Silicone Rubber) boasts curing at lower temperatures, allowing the mould temperature to be lowered further while maintaining the same short heating time, thus saving energy.
Amongst the displays at its booth, Germany's materials firm BASF will show recycled pants based on old tyres: a new product line of outdoor apparel company Vaude, which is already available in stores. The pants are sustainable, as chemically recycled scrap tyres are used as a raw material.
German chemical firm Lanxess's additives unit for the rubber processing industry, Rhein Chemie, will present predispersed chemicals, processing promoters and vulcanisation and filler activators.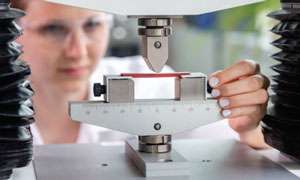 Germany-based Wacker Chemie will be premiering its Elastosil LR 3078 self-adhesive LSR grades with fast curing and bonding with thermoplastic polycarbonate without pre-treatment. Designed for two-component injection moulding, it allows for largescale production of medical and automotive parts.

Wacker will also unveil industrial-grade silicone rubber compounds from plant-based raw materials. Several biomethanolbased product lines under the Elastosil eco umbrella will be launched, including one liquid and six solid silicone rubber grades, as well as selected Silmix silicone compounds.

Other new highlights are silicone resin binders Silres LR 700 and Powersil Resin 700 and binder-based silicone moulding material Powersil Resin 710, for compression/injection moulding and pressure gelation. The solvent-free phenyl methyl binders are an alternative to hightemperature-resistant polymers like PTFE and PEEK, and are transparent, low-viscosity liquids. Both binders require suitable combinations of fillers when processed into moulded parts with mechanical properties.
Norway's Elkem will provide solutions to protecting components such as battery and cables in EVs; with a focus on electric mobility, for thermal management, the battery pack of EV, to produce and protect cells, to insulate cables, formulate paints and improve tyre performance.
Machinery
Moulding machinery maker REP will introduce what it says is the first horizontal, compact, electric injection machine, ECOtronic Short. It is a new range of presses with 4.0 technology. Other displays will be the W510, said to be a smart press with an automated cell, configured for the production of medical parts and for use in clean rooms and V710 with its insert loader. This turnkey solution provides better ergonomics at the workstation and improves production, adds REP. It will also have on display an all-electric compression press developed by Taiwanese co-exhibitor Tung Yu.
Austrian machine maker Maplan will display a horizontal machine from the RAPID+ series with servoelectrically driven ejectors. The lubricant-free machine is available in five sizes with clamping force from 2,000-8,000 kN. The redesign focused on a new clamping unit with a plate guide without tie bar contact via linear bearings on the base frame, increasing speed for free-fall moulded parts. In addition, the tie-bar distance is increased by 25 mm and a system change made it possible to reduce friction in the locking system, which lowers energy use

The second focus will be the MAP.Autocell production cell with the user-friendly "one-forall" control MAP.commander. It can be switched to the machine terminal, so both parts of the system can be conveniently operated from one point.