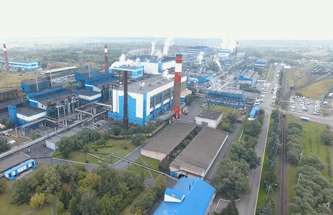 Since 1944, Russian carbon black producer Omsk Carbon Group (OCG) has had a rich history, demonstrating steady growth. Over the last 25 years, it has grown into a long-standing and reliable partner for the world's leading tyre, mechanical rubber goods (MRGs) and plastics manufacturers. Omsk Carbon Group offers various benefits to its potential customers today.
If you ask any major carbon black consumers whether they know any manufacturers from Russia, Omsk Carbon Group is the name that you are likely to hear. Omsk has become a generic name in the industry. Omsk is the name of the city from where the company started its history and where its headquarters are located. Founded by the government for its internal tasks, the company became a wholly private business late in the 1990s, and its management made a strategic decision to enter overseas markets.
Company's position in the Russian and worldwide markets The group includes three production sites with total capacity 560 kilotonnes/year, an R&D centre in Omsk and five international distribution centres providing sales, logistics and aftersales services.
In Russia, the company is the largest carbon black manufacturer having a share of 55% of the overall installed capacity and the country's broadest range of grades. With a demand of around 250 kilotonnes/year, the Russian carbon black market has a low capacity. Three or four key players cover all of the tyre market's needs. Nearly all local brands, both Russian ones and localised global tyre, purchase products from Omsk Carbon Group as an approved and regular supplier.
Omsk Carbon Group exports more than 80% of its products and ranks as the world's seventh or eighth largest company in terms of output. The production technology meets the market's best standards, and the company operates in the open international market and delivers its products to practically all key regions of the world: Europe, the Middle East, Asia, North and Latin America. Omsk Carbon Group ranks first in Russia's and Europe's markets in terms of installed capacity among the macro-region's manufacturers.
The company owes its growth to both customers' requirements and the business sustainability and ambition pursued by our shareholders and senior managers who strive to continually strengthen our company's presence in the global market, plough back profits, expand the company's capacities and product range and enhance quality.
Omsk Carbon Group's strengths
Firstly, these are stability and long-standing cooperation. We not only offer our customers one-off spot deals meeting their current needs, but also can pursue a joint long-term supply strategy involving long contracts, guaranteed quantities and foreseeable formula-based pricing terms.
The company has established well-developed supply chains and warehouse infrastructure across the globe, which enables us to get our products closer to customers so that they can be accessible without customers having to wait until they are finished at a production site.
Omsk Carbon Group is flexible in its customer relationships and takes a personalised approach towards fulfilling quality and labelling requirements. The company operates on the basis of customised specifications and can deliver its products using any of the existing Incoterms options. The wide network of our own dealerships and entities is convenient when it comes to arranging contracts. It also helps us select the contract currency and jurisdiction that work best for our customers.
The emphasis is also placed on a multi-language service. There are local region-specific teams working with our customers, for example: Omsk Carbon Singapore for Asian markets, Omsk Carbon Europe for European markets, Omsk Carbon Canada for American markets, Omsk Carbon Istanbul for the Eastern and Turkish markets. The teams operating in these branches are able to speak English, German, Polish, Turkish, Spanish and Chinese. Our English-speaking teams in sales, tech support and logistics at the Omsk headquarters are involved in processes too.
Our ultimate goal is to make our customer forget that our manufacturing facilities are located thousands of km away, but always know that our products are available in stock right in the country of our presence or, at least, within a wider geography, that services are provided within the same time zone in a language convenient to it.
Omsk Carbon Group's current export activity
The market has undergone serious structural changes starting from the February of 2022. We are witnessing reallocation of supply. Russia, being historically one of the major exporters of carbon black, has redirected to Asia its flows which previously going to Europe, while large quantities of Indian and Chinese products are being shipped to Europe. Amid much lengthier and higher cost of transport routes, products have become much more expensive in each and every one of the markets.
Over a span of six months, Omsk Carbon Group has fully reallocated the sales to new Asian markets. Three company's plants are running at full capacity, and we are building strong ties with new customers, streamlining logistics processes and deploying our logistic infrastructure, new regional intermediate hubs for storing our products and local warehouses for last-mile deliveries.
The company is also interested in the Middle East and Latin America markets where demand for our products is rising. Omsk Carbon Group stands ready to satisfy this demand too. Despite the ongoing hardships, the company's distribution entities in Europe are working actively and have already established their contract base for 2023, including major customers.
Omsk Carbon Group's short term development priorities
The strategy for geographic reallocation of products will be a long-standing one for Omsk Carbon Group. Having entered the new markets, the company is planning to stay there for long time. The company's investment program involves both the increase of its capacities to 830 kilotonnes/year and the expansion of specialty carbon blacks array. The company has continued to invest in extensive expansion and technology. Specifically, it is working on the reduction of its environmental impacts as part of the global trend and decarbonisation requirements.
Environmental Protection
Environmental conservation for future generations is an integral part of Omsk Carbon Group's company culture and business principles. We seek to attain leadership in minimising our environmental impacts and making environmentally friendly manufacturing possible.
Omsk Carbon Group's environmental management system is ISO 14001:2015 certified. Improving environmental efficiency, which is assessed based on specific consumption of natural resources and emissions, is one of Omsk Carbon Group's primary goals.
Provided with all required environmental facilities, our plants meet modern-day environmental safety requirements. Effluents, including storm sewage, are rendered harmless at our local waste treatment plants, and tail gases produced are treated in waste heat boilers. Our sophisticated circulation water system many times reduces fresh river water used for manufacturing purposes.
Contact: omskcarbongroup.com 
Email: sales.ocs@omskcarbon.com