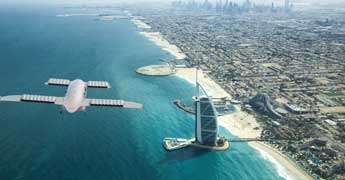 Lilium N.V, developer of the first all-electric vertical take-off and landing (eVTOL) jet, and French tyre maker Michelin have announced a partnership for Lilium Jet's tyres. Lilium and Michelin began working together more than a year ago to develop and produce custom tyres for the Lilium Jet and have now signed a final agreement covering design, serial production, and support.
The partnership leverages Michelin's 100 plus years of experience working with the aeronautical industry to deliver a tyre solution that meets the safety weight, and reliability requirements for the revolutionary Lilium Jet, the French tyre maker says. The first tyres are expected to be delivered to Lilium facilities this month.
This announcement underlines Lilium's strategy of working with best premium aerospace suppliers to accelerate its path to certification and follows recent announcements on its progress toward start of assembly of the Lilium Jet later this year.
As proper weight and high performance are essential for eVTOLs, it is fundamental that Lilium maximises weight efficiency across every element of the jet. The Michelin-produced tyres offer best-in-class weight efficiency, aligning with Lilium's payload objectives, the companies add.
The tyres are specially designed to facilitate safe vertical take-off and landing operations, delivering exceptional performance while adhering to stringent weight limits.
Michelin continues to evidence its focus on driving innovation and sustainability, including in the eVTOL industry's evolution. The expertise and collaboration between Michelin and Lilium will establish new standards in aerospace tyre design and integration, the companies say.