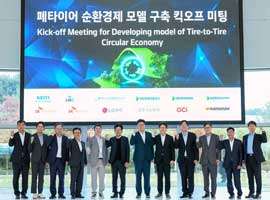 South Korean tyre company Hankook Tire & Technology (Hankook Tire) hosted the official kick-off meeting for the 'Tire-to-Tire Circular Economy Model' consortium recently in Daejeon, South Korea. Held at the Hankook Technodome, the event marked the start of the consortium's efforts to create the business model for the circular economy of end-of-life tyres in Korea.
The consortium comprises 12 South Korean companies, including Hankook Tire, Korea Environmental Industry & Technology Institute, LD Carbon, Korea Institute of Footwear & Leather Technology, HD Hyundai Oilbank, HD Hyundai Chemical, HD Hyundai OCI, SK Incheon Petrochem, SK Geo Centric, LG Chem, Kumho Petrochemical and OCI
Initiated by Hankook Tire, the project aims to promote a circular economy of end-of-life tyres in the industry sector by designing innovative upcycling processes for turning end-of-life tyres into new tyres. This project signifies industry commitment to meeting global demands for carbon neutrality and using more sustainable materials in the manufacturing process.
The companies and institutes will collaborate on the project with the goal of improving the industry's shift toward sustainability.
The group will harness its diverse backgrounds and manufacturing expertise to develop technological solutions that promote a circular economy of end-of-life tyres with a focus on identifying and producing sustainable raw materials that can be used in tyre manufacturing, such as sustainable carbon black and synthetic rubber as well as recovered carbon.
The collective will aim to showcase the feasibility of a recycling process of end-of-life tyres in Korea, using materials from sources including high-quality recovered carbon and pyrolysis oil from end-of-life tyres.
The consortium aims to extend material recovery rates for end-of-life tyres even further by building a system to steer access to high-quality, sustainable raw materials. Creating that system will require R&D of the entire tyre product cycle – from waste tyre collection and sorting, to waste tyre pyrolysis, to refining the resultant pyrolysis oil, manufacturing sustainable raw materials and using them to produce tyres, all the way to smarter disposal systems.
Additionally, the company intends to seek R&D support from government ministries and affiliated organisations to accelerate the development of standardised technologies and processes.
Circular economy models are becoming an important system in making the global tyre industry more sustainable and reducing environmental risks. For example, in Europe, the 'BlackCycle' project has been operational since 2020 across five countries – France, Spain, Germany, Greece, and Switzerland – engaging 13 organisations, including both public and private partners.
Global programs launched by governments and private companies also helped supporting this shift. For example, Horizon 2020, a scientific research program run by the European Union, has contributed EUR12 million to the development of a circular economy model for waste tyres in Europe. This model involves the development of technologies and processes aimed at enhancing waste tire recycling and reducing carbon dioxide emissions. It is committed to producing sustainable raw materials to be used in the manufacture of tyres and establishing a circular economy throughout every phase of the tyre life cycle, adds Hankook.