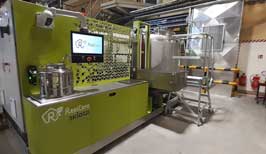 French tyre maker Michelin's subsidiary ResiCare, a specialist in adhesive solutions, is said to be helping Michelin to achieve its ambitions beyond tyres, to produce high-performance adhesive resins free of toxic molecules and made from biobased raw materials. Michelin's ambition is to substitute, by 2025, more than 80% of its usual adhesive for use in tyre textile reinforcement with a new ResiCare adhesive free from any substances of very high concern for health (SVHC).
After four years of technical and industrial development, ResiCare has found an initial commercial outlet "beyond the tyre". This advance, intended for the wood industry, is the result of a collaboration that began in 2018 between ResiCare and Allin, a French specialist in the production of plywood panels.
Since February, Allin has been marketing "R'PLY", the first responsible plywood, integrating a ResiCare resin that is kinder to health and the environment. Comprising layers of eco-certified okoume or poplar wood, "R'PLY" is a high-performance plywood for multiple applications. The "R'PLY" panels will soon be available to private individuals in certain DIY superstores. They are also suited for use in vehicle and boat construction as well as in the building trade.
Thus, Michelin says ResiCare illustrates the group's determination to move into new growth areas beyond tyres. ResiCare adhesives are mainly used in textile reinforcement of tyres, plywood and other applications involving glued wood.
In May 2021, ResiCare set up a mobile resin production unit on the Michelin site in Olsztyn, Poland. Based on the Olsztyn model, ResiCare intends to set up other compact production units over the coming months in Europe and Asia, opening the way to an ambitious plan to deploy this textile reinforcement technology for all tire producers.
Drawing on the Michelin Group's longstanding expertise in high-tech materials and R&D organisation, the Michelin subsidiary already has more than 40 patents to its name.
"This is a commercial achievement that paves the way for an ambitious deployment plan for ResiCare technology," says David Doisneau, co-founder/technical manager at ResiCare. Several skid installations are planned in Europe and Asia over the coming months.
With less material and a shorter curing time, this new adhesive also helps to reduce greenhouse gas emissions. In addition to textiles and wood, there are also developments in insulation, abrasives and other composites. "We are constantly exploring new technologies in order to conquer new markets and broaden our reach," adds Faucret.
With the aim of bio-sourcing the raw materials used to manufacture resins, ResiCare is coordinating the BioImpulse project. Launched in 2018, this project should, by 2025, result in an industrial process for producing a 100% bio-based molecule of interest and a range of non-toxic resins (with no SVHC compounds) that are kinder to human health and the environment.
BioImpulse brings together several private and public-sector stakeholders (Lesaffre, FCBA, INRAE, INSA and ResiCare) and is supported by ADEME as part of its future investment programme.