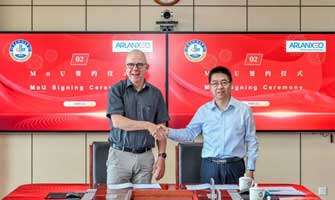 Synthetic rubber manufacturer Arlanxeo, a wholly owned subsidiary of Saudi Aramco, has announced the continuation of its partnership with Qingdao University of Science and Technology (QUST), marking the 19th consecutive year of bilateral cooperation. A signing ceremony for a Memorandum of Understanding between Arlanxeo and QUST was held at the School of Polymer Science and Engineering. With its long-term commitment to developing local talent, Arlanxeo adds it continues to invest in enriching the talent pipeline, and thus, support the upgrading of the synthetic rubber industry in China.
The ceremony was attended by Kezheng Chen, Principal of QUST, Wanxiang Lv, Member of the Standing Committee of the Party Committee and Vice Principal of QUST, Herman Dikland, Chief Technology and Sustainability Officer, Arlanxeo, and Baojia Cheng, Head of TSAD, Asia, Arlanxeo.
Over the past decade, Arlanxeo and QUST completed collaborative projects including Open Day events, scholarships, innovation research projects and technical lectures. In the new extended partnership, Arlanxeo says it will focus on scientific projects, including:
· Outstanding Engineers Class: Arlanxeo's experts will share insights into the rubber industrialization and advanced processing technologies with aspiring engineers.
· Scientific research collaboration: Arlanxeo will support QUST's education and scientific research in the area of rubber. Additionally, new scientific projects will be initiated to foster the development of the School of Polymer Science and Engineering.
· Expert lectures: Arlanxeo's experts will deliver lectures to students at QUST in cutting-edge technologies and provide insights into industry trends of synthetic rubber.
Arlanxeo has also partnered with Changzhou University, Changzhou Vocational Institute of Engineering, and the South China University of Technology in China.
Following the establishment of Arlanxeo in April 2016, it officially commenced operations in China on August 1, 2016. Headquartered in Changzhou, it has a staff of around 370 employees in China, with production facilities in Changzhou and Nantong, in addition to a sales and administration office in Shanghai. It is also a partner of a joint venture with TSRC Corporation located in Nantong.