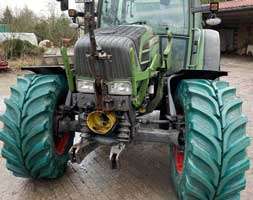 Sri Lankan tyre maker GRI says it is increasing its efforts in utilising recycled carbon black (rCB) for compounding and in its specialty tyre production as the tyre manufacturing industry shifts towards sustainable practices, products, and eco-friendly solutions. It has recently tested its Green XLR Earth Series tyres that have achieved "noteworthy performance during the last six months of field tests in Germany".
The company says the tyres incorporate around 78% sustainable materials, including pure natural rubber sustainably sourced from Sri Lankan rubber farmers.
Utilisation of rCB has gained traction as a promising alternative to traditional fossil-based virgin carbon black and also as it offers a unique opportunity to reduce the environmental impact of tyre production while maintaining crucial physical properties that ensure safety, strength, and resilience of specialty tyres, according to GRI.
"GRI's decision to substantially decrease the utilisation of virgin carbon black and instead harness the power of rCB for the premium material handling tyre Ultimate Green XT for forklifts as well as the radial agriculture tyres Green XLR Earth series is true evidence to GRI's visionary approach to making a positive impact on our planet. This endeavour goes beyond traditional tire development and considers the full lifecycle impact of the product from manufacturing to end-of-life disposal," said Dr Mahesha Ranasoma, CEO of GRI.
GRI adds it has advanced the adoption of rCB and selected premium suppliers for rCB.
Apart from rCB, the Green tyres also include reclaimed rubber, highly dispersible silica, soybean oil and bio-sourced cellulose fibres. The use of bio-sourced soybean oil, combined with next-generation HD silica, not only improves fuel economy but also extends tyre life, adds GRI.