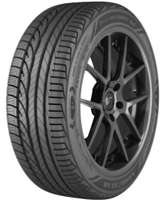 Goodyear Tire & Rubber Company says it has a new tread formulation for its ultra-high performance, all-season ElectricDrive GT tyre, tuned for electric vehicles, in size 235/40R19. The specialised tread compound that provides enhanced all-season traction will include hydrogen and materials producer Monolith's carbon black produced by methane pyrolysis. In doing so, both firms say that Monolith and Goodyear are taking the next step on a journey toward zero-emissions carbon black in tyre manufacturing.
This tyre, which will be manufactured with this specific carbon black, is said to be the first tyre for sale in the industry to have this type of carbon black produced by Monolith.
Carbon black is a key ingredient in tyres, providing compounds in the tyres with strength, improved tear resistance, and increased abrasion resistance. While traditional carbon black commonly comes from the combustion of fossil fuel oils, Monolith's plasma-based process takes advantage of renewable electricity to complete methane pyrolysis and results in the output of only carbon and hydrogen, with no combustion required. Methane pyrolysis allows for the splitting of the methane molecule into the constituent elements—carbon and hydrogen.
The Goodyear ElectricDrive GT is said to deliver long-lasting tread wear and a quiet ride for EV drivers and passengers. The ElectricDrive GT features Goodyear's SoundComfort Technology®, which acts as a built-in sound barrier that helps reduce road noise. It is available through Goodyear.com and is an ideal fit for vehicles such as the Tesla Model 3, according to the firm.
Goodyear plans to explore expanding the use of Monolith carbon black produced via methane pyrolysis across additional product lines in the coming years. Goodyear also plans to continue to investigate with Monolith the potential use of new technologies, such as the use of carbon black produced from methane derived from waste sources.
Goodyear entered into a collaboration agreement with Monolith, a world leader in clean hydrogen and materials production, in December 2021 for the development and potential use of carbon black produced from methane and/or biomethane for its tyres.