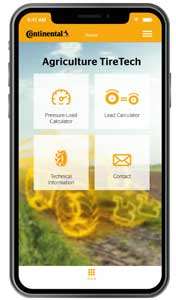 German tyre maker Continental is now offering the Agro Tyre Pressure App, in cooperation with other tyre manufacturers. This application combines the databases of each manufacturer like pressure, load and speed tables. The app is now available in English, French, German and Polish for iOS and Android.
In agriculture, the variety of vehicles, applications and implements require regular and appropriate adaptation of tyre pressures to ensure their service life and other key performances like traction, fuel savings and soil protection.
Usually, after identifying the axle loads and speed of use, the farmer should refer to the manufacturer's documentation to define the right pressure. If the farmer has multiple brands of tyres on the fleet of agricultural vehicles, this gets even more complicated.
The main challenge for the farmer: where to find all relevant information? The new smartphone application provides easy and quick access to correct tyre pressure data. By selecting load, speed, size and the tyre brand, this new app truly supports farmers and dealers in their daily work.