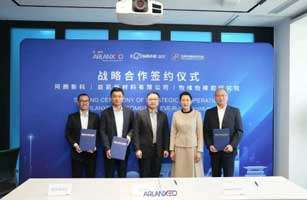 Ecombine Advanced Materials Co., Eve Rubber Institute and synthetic rubber maker Arlanxeo High-Performance Elastomer (Changzhou) Co. have set up a partnership in Shanghai, China. The three parties will strengthen innovations in liquid-phase mixing technology, downstream applications, and market development for rubber products of BIIR, SSBR, EPDM and CR.
Ecombine, a subsidiary of Chinese rubber machinery maker Mesnac company, produces the Evec rubber material using the liquid-phase mixing technology and it is said to improve a tyre's rolling resistance, wet braking, and wear resistance, thus breaking the "Magic Triangle" of tyre performance that has plagued the industry.
Ecombine adds that it has also achieved low-carbon, energy-saving, and emissions reduction throughout the life cycle from raw materials selection, production and manufacturing to product application and reuse through the commercialisation of liquid-phase mixing technology, which is of significance for promoting the green transformation of the industry.
The tyre technology incorporating Evec materials is known as EcoPoint, which made its world debut in December 2021 at the Qingdao Innovation Product Conference. The EcoPoint3 tyres have already reached or exceeded the performance level of international Tier 1 tyre brands, which were tested and confirmed by international testing authorities at the tyre show in Cologne, Germany, in May 2022, claims Ecombine.
According to Mesnac, the Evec compound allows liquid rubber produced by upstream rubber companies to be directly used in the chemical mixing process "without the need for cohesion and post-treatment."