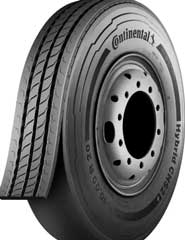 Continental Tires has announced an agreement with Indian tread maker Indag Rubber to promote tyre recycling. During the pilot project, the warranty program and retreading services will be provided to TBR Normal Load (NL) fleets from retreaders from three markets: Delhi NCR, Rajasthan, and Maharashtra.
As part of the agreement, Continental Tires will also provide a second-life warranty on NL casings in compliance with Conti Bharosa, while Indag will provide a warranty on retreading technology and tread rubber on the NL fleets. After the pilot projects are completed, the programme will be implemented across India.
"Continental has always been focused on building sustainable mobility solutions," said Samir Gupta, Head of Central Region for BA Tyres APAC and Managing Director of Continental Tyres India, at the signing of the Memorandum of Understanding.
"Through this partnership, we hope to raise awareness of retreading as a viable alternative for extending the life of tyres. It is also hoped the process will result in decreased prices.," he added.
During the pilot project, the warranty will be valid on Continental tyres listed below.
NL TBR – 295/90R20 CHS2,10.00 R20 CHS2 /CHS2+/CHD2/CHD2+/ CHA2/HDR2?, 11R22.5 CHS2+ & HDR2, 295/80 R22.5 HSR2/CHD2/CCA3.
The warranty will also apply to Indag's Icon series of tread rubber.