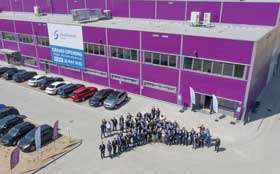 German rubber and thermoplastic seal specialist SaarGummi Group, which is an affiliate of Chinese state-owned enterprise CQLT Group, has expanded its global footprint and is better positioned to meet growing European demand for its sealing products, it adds. The company had announced its expansion last year to Poland.
At the recent opening, CEO Dr. Lars Placke, COO Piotr Gaska and Krzysztof Gajewicz, Director Global Manufacturing Excellence welcomed the guests, among whom were plant managers of all European SaarGummi locations and representatives from regional politics. The management team expressed its gratitude for the outstanding commitment of those involved in the project.
"The excellent location ensures us the availability of a competent workforce, both for production and technical areas. This will enable our SaarGummi Group to
manufacture highly sophisticated products and become a major player not only in the market for dynamic seals, but also for static seals," said the firm.
Added COO Piotr Gaska: "For the region it will increase employment and attractiveness of jobs, because our production requires highly educated technical groups, and we will cooperate with the local environment, local schools, local universities to achieve this goal." The plant was built by DL Invest Group in an environmentally friendly way in terms of BREEAM certification as "Green Construction" in S?dziszów Ma?opolski.
SaarGummi Group is a leading supplier of technically high-quality sealing systems. Currently, close to 6,000 employees work at locations in North and South America, Asia, and Europe. The corporation operates internationally with three major business units: – SaarGummi Automotive (all activities in the automotive sector) – SaarGummi Industries (commitment in the building industry) – SaarGummi Neo (development of solutions for processes and products for the entire group).