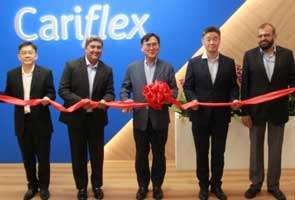 Cariflex, a global manufacturer and supplier of polyisoprene rubber latex for medical applications, has relocated its global headquarters to the Vision Exchange in Singapore's Jurong Gateway. The new office is strategically positioned near Jurong Island in order to improve interaction between headquarters and its future manufacturing site.
Previously located in the city centre, a fit-for-purpose office had been set up in 2020 after the establishment of Cariflex in Singapore as a wholly owned subsidiary of DL Chemical Co. Ltd.
DL Chemical's subsidiary companies, Kraton Polymers Singapore and DL Chemical – Singapore Branch, will also be co-located in the same office, leveraging the business and site synergies.
The development of Cariflex's largest polyisoprene latex factory at Jurong Island, Singapore, is "progressing well", according to Prakash Kolluri, CEO. The plant is expected to begin operations in the second half of 2024 and will employ at least 80 people in engineering, production, quality, supply chain, and other manufacturing support services.
Cariflex stated that it will continue to invest in capabilities in order to strengthen its position as the leading provider of polyisoprene latex with unrivaled quality and a diverse supply base. The relocation to the new headquarters boosts Cariflex's footprint in Asia, which is the company's most important development market.