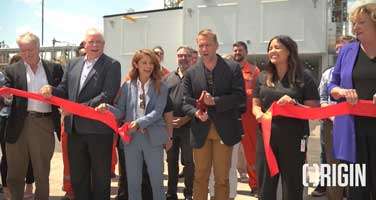 Carbon negative materials firm Origin Materials says it has commenced commercial-scale production at Origin 1, located in Sarnia, Ontario, Canada, the first commercial plant of its kind. The plant scales up the company's core technology platform for converting sustainable wood residues into intermediate chemicals, including CMF, HTC, and oils and extractives.
HTC (hydrothermal carbon) is a carbon-rich, highly structured and flexible raw material that can be converted into a wide range of applications, including carbon black, activated carbon, specialty agricultural products, and fuels.
CMF (chloromethylfurfural) can be used to produce many chemicals and materials, such as para-xylene, PTA, and PET, along with numerous commodity and specialty applications through its derivatives, such as FDCA (furandicarboxylic acid). The latter is a raw material whose commercial applications include surfactants, epoxy resins, and the next-gen polymer PEF (polyethylene furanoate).
Origin 1 enables, for the first time, the commercial-scale production of Origin's versatile chemical building-blocks, which can decarbonise and improve the performance of a wide range of end-products, including bio-based apparel and textiles, green tires for the automotive industry, and bio-based and fully recyclable packaging, targeting a US$1 trillion addressable market.
"This start of production at Origin 1 is a key inflection point in our effort to decarbonise the world's physical goods," said John Bissell, Co-Founder/Co-CEO of Origin Materials. "As an operating chemical plant, Origin 1 proves our technology's scalability and brings online an important manufacturing capability that helps us meet the growing demand for our technology and products as the world moves aggressively to a zero-carbon future. We are excited to expand the deployment of our platform now that we have achieved commercial-scale production."
Headquartered in West Sacramento, Origin Materials is the world's leading carbon negative materials company. For over a decade, Origin has developed a platform for turning the carbon found in inexpensive, plentiful, non-food biomass such as sustainable wood residues into useful materials while capturing carbon in the process.
Origin's patented technology platform can help revolutionise the production of a wide range of end products, including clothing, textiles, plastics, packaging, car parts, tires, carpeting, toys, fuels. Origin's patented drop-in core technology, economics and carbon impact are supported by a growing list of major global customers and investors.