Consumption for rubber gloves has gone up amid workplace safety concerns and the management of emerging infectious diseases like the recent Covid-19 pandemic. Meanwhile, the nitrile butadiene rubber market has responded positively with improved supply.
Growing reliance on PPE, a gain for the NBR latex
Industrialisation is gradually spreading across the globe, leading to the emergence of industry-focused economies all over the world. As a result of this expansion, there has been an increase in workrelated risks, prompting various authorities such as the Occupational Safety and Health Administration (OSHA) to mandate the provision of efficient safety equipment to workers, particularly in high-risk industries such as healthcare and chemical.
Notably, during the Covid-19 pandemic, the importance of having dependable and high- quality PPE (personal protective equipment), particularly gloves, was emphasised. Gloves are an important component of the coronavirus defense protocol because they protect health workers from disease transmission while they are treating patients.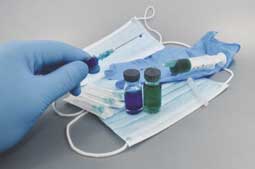 This trend is poised to boost the nitrile butadiene rubber (NBR) latex industry, which is expected to exceed US$4 billion by 2027, according to Global Market Insights (GMI) estimates
NBR latex is known for its multiple advantages, such as high performance in extreme temperatures, oil resistance, and personal protection, making it suitable for use in a wide variety of industrial applications.
Demand for medical gloves accelerates NBR output
Gloves are inevitable medical devices, shared Toms Joseph, former Joint Director (Economics) at Rubber Board, Kottayam, Kerala, India, and Economist at the Association of Natural Rubber Producing Countries (ANRPC). Throughout those periods of rising and falling rubber glove shares, and until the NBR glove technology was developed and patented in 1990 by Neil Tillotson and Luc DeBecker, natural rubber (NR), nitrile, and vinyl gloves remained the most common types used in the medical sector, Joseph said in an article.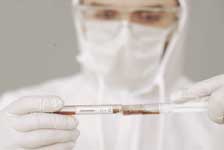 Rubber product factories began producing rubber gloves on request from hospitals and other healthcare facilities. Medical gloves eventually became required PPE for healthcare providers, patients, and others to ensure barrier protection by reducing the risk of pathogen exposure. Gloves are also worn by employees in spas, salons, and other places where physical contact is possible, Thomas said.
Medical rubber gloves (including surgical rubber gloves) are regulated as Class I Reserved Medical Devices in the US, and the FDA inspects them to ensure that performance criterion, such as leak resistance, tear resistance, puncture resistance as well as biocompatibility, are met.
In a similar vein, GMI stated that increased demand for raw materials, such as NBR latex, has contributed to the high demand for effective PPE gloves. When compared to its conventional counterparts, NBR latex is quickly replacing NR as the preferred alternative due to its performance efficiency and versatility. While nitrile latex gloves are widely used in both non- medical and medical applications, the NBR latex market in the medical gloves segment is growing.
NBR latex demand, which treaded around 1 million tonne/year in 2019, nearly doubled to 1.9 million tonnes in 2020 owing to increased use of protective gloves during the pandemic. As a result, major manufacturers have ramped up their production of the material globally to meet the demand for medical PPE to combat emerging virulent diseases like the Covid-19, GMI said.
Medical gloves in epidemics, pandemics
Meanwhile, Thomas adds that medical gloves have been in high demand for some time, because of advances in healthcare facilities in invasive medical procedures such as surgeries; longer life expectancy, and hygiene awareness.
During outbreaks of epidemics, however, the demand for medical gloves skyrocketed. This was true of the epidemics/pandemics during the recent decades such as AIDS (Acquired Immunodeficiency Syndrome ) in 1981 onwards, SARS (Severe Acute Respiratory Syndrome) in 2002-2003, Bird Flu in 2003-2004, Swine Flu in 2009-2010), Ebola in 2013, and now Covid-19.
Until the early 1980s, reliable information on HIV/AIDS transmission and infection was not available. In 1983, the US Centre for Disease Control and Prevention (CDC) issued "Blood and Body Fluid Precautions," the first time the term AIDS was used. The World Health Organisation (WHO) launched the Global AIDS Program in February 1987, and the CDC provided the "Universal Precautions" on dealing with blood and body fluids when managing the disease in August 1987.
The development of blood and body fluid safeguards to all patients bolstered demand for medical rubber gloves, resulting in a jump in US glove imports (particularly disposable examination gloves) from 3.9 billion pieces in 1989 to 25.29 billion in 1998. Because of the rapid increase in demand for rubber gloves, several countries increased their glove production capacities.
In the case of the Covid-19 pandemic, demand for gloves was so high that it spawned a new generation of glove tycoons, as a result of a new round of massive investment. The outbreak of the pandemic increased the demand for gloves from around 350 billion to around 400 billion.
Thomas said that even with new investments and full utilisation of global capacity, only about 420 billion pieces/year are being used at full capacity, and with demand expected to continue to rise rapidly, a deficit is expected in the near future.
With regards to pricing, higher demand and sporadic shortages drove up the cost of raw materials like NR and nitrile latex on the global market. Glove manufacturing costs have also risen as a result of Covid restrictions and protocols, as well as plant closures due to worker infections.
However, the rise in glove prices and resulting increase in net profit of major glove companies has multiplied. Surgical, examination, and other disposable gloves (HS 401511 and 401519) had a global export value of US$16.71 billion in 2020, up from US$8 billion in 2019, according to Thomas.