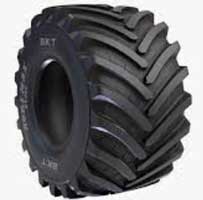 Indian tyre maker Balkrishna Industries Ltd. (BKT) says recent enhancements at its plant in Bhuj, Gujarat, India, will enable the company to double its output and achieve a tyre production of 600,000 tonnes/year at the facility and total sales of US$2 billion/year within the next three years.
The off-highway tyre maker BKT says its business has increased 49% compared to the pre-pandemic period. "It is a remarkable peak that bears witness to how the Indian multi-national is always ready for new opportunities and challenges," say BKT officials.
The company manufactures agricultural, earthmover and industrial tyres and has four production sites in India.
"Bhuj today sees more efficient machinery installed with features that make it possible to work faster and more precisely, increasing the quantity of production and the quality of the finished product."
The expansion of the plant, which opened in 2015, not only "means an increase in production capacity, but operational logistics have also improved significantly, which has allowed the introduction of new specialist workers, as well as providing greater flexibility in production and storage flows."
The Bhuj plant, which employs more than 4,700 people, also benefits from an internal power plant, a carbon black plant, solar panels and more. BKT plans to produce more than 198,600 tonnes of carbon black in 2023 and the company's R&D team plans to add a "specialty carbon black" to production.
"People have asked me if all this was really necessary – so much in such a short time," says Rajiv Poddar, joint managing director at BKT. "The goals we set ourselves when we decided to open the Bhuj site were proportional to the financial solidity of the time, but above all to a vision which is as great as its concrete.
"Analysing the market and anticipating it with passion and foresight is what we have done all these years. Growth has always been in step with demand – not without, let me say, courage and creativity, but never without our objectives and investments having solid foundations," he added.
The company also expects global tyre demand to grow, without any signs of it slowing down over the next five years. "This is a demand which started to rise during the 2020 pandemic and which today is above pre-Covid levels. The journey we started out on at Bhuj in 2012 was never a return journey, but one to prepare ourselves to discover the future," added Poddar.