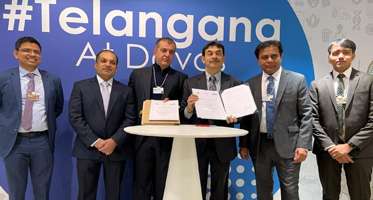 India's Apollo Tyres has signed an MoU with the Telangana government to set up its second Digital Innovation Centre in Hyderabad. Its first centre is located in London.
The MoU was signed by Jayesh Ranjan, Principal Secretary (IT and Industries and Commerce), and Neeraj Kanwar, Vice-Chairman and Managing Director of Apollo Tyres Ltd, in Davos (Switzerland) during the annual World Economic Forum in Davos recently.
As part of the company's digital strategy to implement Industry 4.0, the centre will use technologies like IoT, Cloud Computing, Artificial Intelligence (AI), Machine Learning (ML), Robotic Process Automation (RPA) and Block Chain to help develop and deliver new business models and market leading customer service.
The DIC will drive significant efficiency gains and agility in company's supply chain, in addition to transforming manufacturing efficiencies and helping achieve the sustainability goals.
Neeraj Kanwar, Vice Chairman/MD, Apollo Tyres Ltd said, "Digitalisation is one of the key pillars for achieving our FY26 vision; setting up of this Digital Innovation Centre, along with the one in London, is part of our digital strategy. I would like to express my gratitude to the Telangana Govt who helped us in setting up this Centre. I am looking forward to the DIC helping us solve complex business issues and process transformation, resulting in significant financial benefits to the organisation."
Apollo Tyres has tied up with global digital leaders, along with leading universities and respective Governments for the development of strategic digital applications at these Digital Innovation Centres in Hyderabad and London.