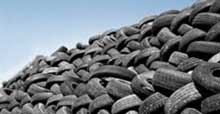 Danish wind energy and green tech development company WindSpace has signed an agreement with Canada's Environmental Waste International Inc. (EWS) for the use of its patented reverse polymerisation technology and proprietary microwave delivery system. A plant in Nyborg, Denmark will be the first under the agreement. The agreement also includes a long-term partnership between the companies and a mutual exclusivity agreement for the development and installation of waste tyre recycling plants across Europe.
WindSpace has been working on the establishment of Elysium Nordic, a tyre recycling project in Nyborg, Denmark since 2018. After an exhaustive search and thorough evaluation it decided to conclude the agreement with EWS. Windspace says the partnership is a perfect match between the project development and execution capabilities of WindSpace and EWS' technology and experience in recycling waste tyres.
The first Elysium Nordic plant in Nyborg will be capable of processing 30,000 tonnes of end-of-life tyres/year, with planned start of construction during Q1 2021
EWS has developed a proprietary system for processing rubber tyres via a unique microwave technology that safely processes and recycles waste tires, while recovering highly valuable commodities, including reclaimed carbon black (rCB), steel, syn gas and oil.
Commercialisation of EWS's technology represents a breakthrough in dealing with one of the world's most stubborn waste problems in an environmentally friendly manner.
Jens Elton Andersen, CEO of WindSpace said, "We are very happy to enter the tire recycling business in partnership with EWS. We chose EWS after an exhaustive two-year search for the best available technology both from an economic and environmental perspective. We are looking forward to a long and successful partnership in Europe."
Bob MacBean, EWS CEO said, "We are delighted to have WindSpace as our partners in Europe. This endorsement from a sophisticated and experienced group is an important milestone which confirms our belief that our technology is the best-in-class solution to the worldwide reclamation of waste rubber problem. The timing seems right for our long-term developmental efforts to be rewarded. We are currently in various stages of discussion with prospective customers or partners around the world, which underscores the global nature of the problem and the attractiveness of our solution."
With operations in Denmark, Sweden, Poland and Croatia, WindSpace has been active in the wind industry since 2007 as lead developer of about 450 MW wind projects with further projects currently under development. WindSpace has developed, constructed, and operated several wind parks. During the past three years, WindSpace has entered the recovered carbon black market.
Environmental Waste International Inc. specialises in eco-friendly systems for the breakdown of organic materials, including tyres. The company has spent over 15 years engineering systems that integrate its patented reverse polymerisation process and proprietary microwave delivery systems.