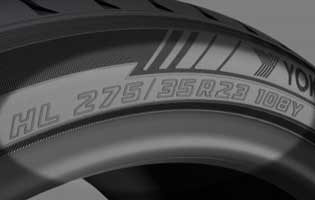 Yokohama Rubber Co. says that it has begun production and sales of HLC (high load capacity) tyres to meet the needs of heavy duty passenger cars such as EVs and hybrid cars with high capacity batteries, as well as large SUVs. Having been developed as the original equipment (OE) on new cars and for their repairs, the Japanese firm adds it will also develop products for the replacement market in line with market needs.
In response to the increase in the number of heavy duty passenger cars, for which conventional XL (extra load) standard tyres have difficulty maintaining high load capacity and performance characteristics, HLC tyres were established as a new tyre size in the passenger car tyre category of ETRTO standards with a higher load capacity than conventional XL tyres.
Comparing the load capacities of 275/35R23 size tyres, conventional XL tyres weigh 900 kg (load index 104), while HLC tyres weigh 1,000 kg (load index 108).
HLC tyre requires advanced technology to ensure quietness and handling stability while maintaining high load durability. Through repeated simulations of failures caused by high loads, Yokohama Rubber has developed the dedicated profile for HLC tyres that achieves a balance between load durability and other performance characteristics, with less heat generation and strain under high loads than standard tyres.
It is also actively promoting the response to the electric vehicles and large SUVs, which have been increasing in recent years, and is developing tyres tailored to high load capacity and various other vehicle characteristics.
Under Yokohama Rubber's three-year (2021–2023) medium-term management plan, Yokohama Transformation 2023 (YX2023), the consumer tyre business aims to maximise the sales ratios of high-value-added Yokohama tyres, namely the global flagship Advan brand, the Geolandar brand of tyres for SUVs and pickup trucks, and various winter tyres.
One of the key initiatives under this strategy is expanding sales of Advan and Geolandar tyres as original equipment on new cars.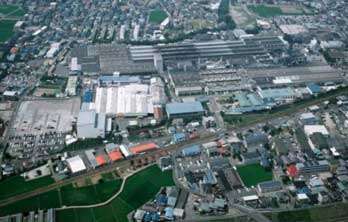 In other news, Yokohama says that the motorsports tyre production line at its Mishima Plant has shifted its use of electric power completely to renewable energy-generated electric power from this January. Tyres produced on this line will contribute to carbon neutrality in motorsports events held in Japan and around the world in 2023.
The renewable-energy electricity used by the motorsports tire production line is considered to be derived 100% from renewable energy sources and deemed to generate zero CO2 emissions as electric power provider TEPCO Energy Partner, Inc. has procured FIT non-fossil fuel certificates with tracking information and non-FIT non-fossil fuel certificates with renewable energy attributes for the electricity being provided to the line.
The Mishima Plant produces motorsports tyres supplied by Yokohama Rubber for use in top category races around the world, such as Japanese Super Formula Championship and the Super GT races in Japan, the Nürburgring 24-Hour Race in Germany, and the Pikes Peak International Hill Climb in the US.
The shift is Yokohama Rubber's latest initiative targeted at achieving carbon neutrality and developing a sustainable motorsports industry, in line with its goal of achieving net zero CO2 emissions by 2050.
Yokohama Rubber also is accelerating its motorsports activities aimed at achieving carbon neutrality and a circular economy. One recent success in this area is the supply of Yokohama tyres for use in this season's Japanese Super Formula Championship races. The supplied tyres used in dry conditions have achieved a 33% sustainable materials ratio while maintaining the excellent grip performance of the conventional tyres.
These tyres are being produced on the Mishima Plant now powered by renewable-energy electricity. Yokohama Rubber is supplying tyres for use in dry conditions from the series opening race in April and plans to begin supply tyres for wet conditions from July. Meanwhile, the company will continue its effort to raise the sustainability material ratio of its motorsports tyres.