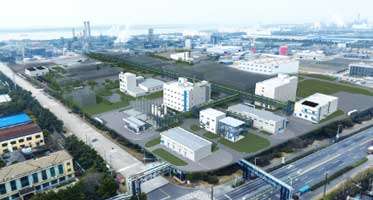 German chemical firm Wacker Chemie AG is expanding its specialty silicone manufacturing capacities in China. A kick-off event recently at the Zhangjiagang site in Jiangsu Province marked the start of construction of several new production lines, where the globally operating chemical group will manufacture functional silicone fluids, silicone emulsions and silicone elastomer gels.
Investments of some EUR150?million have been earmarked for the expansion project. The project has already received all necessary permits from local authorities. The new facilities are scheduled to come on stream in the second half of 2025.
Wacker's Zhangjiagang site in Jiangsu Province, China. Wacker is expanding its capacities for functional silicone fluids, silicone emulsions and silicone elastomer gels in response to rising demand for high-quality specialty silicones on the part of its customers in Asia.
"This expansion project is our largest single investment in Zhangjiagang since the site was officially commissioned in 2010," said Alvin Hu, President of Wacker China.
Demand from customers in China is growing steadily, he added, especially for innovative specialty silicones. "The new production facilities and our expanded research and development activities on site will do more than just strengthen our presence in China – they also underscore our determination to offer even better service to our customers in China and the Asia-Pacific region going forward," Hu explained.
Christian Kirsten, the Wacker Executive Board member responsible for the group's global silicone business, likewise emphasised the steady growth in demand for high-quality specialty silicones: "Silicone fluids, emulsions and gels are used in many kinds of applications today, which is why we anticipate growth to continue." Expanding capacity in Zhangjiagang, he pointed out, is a logical next step in the group's strategy of continuing to make specialty silicones a bigger part of its product portfolio.
Silicone emulsions and elastomer gels from Wacker are typically used in textile, cosmetic and personal-care applications, including skin creams, shampoos and fabric softeners. Here they keep makeup from staining clothing, reduce the negative impact that contact with water has on sunscreen protection, and allow moisturisers and night creams to remain pleasantly silky soft. Functional silicone fluids, on the other hand, are important starting materials for industrial applications such as impregnating or release agents. Other applications for silicone fluids include their use as additives for construction, paper, paints and coatings.
Zhangjiagang is one of Wacker Group's largest fully integrated production sites. From here the company supplies rapidly growing Asian markets with a wide array of downstream silicone products such as sealants, elastomers, emulsions and fluids.
Silicones from Wacker are used not only in traditional application areas, such as the textile, leather and fibre industries, and for chemical processes and coatings. They also play a key role in particularly innovative industries, such as electromobility, renewable power generation and medical technology.