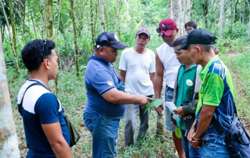 To protect the country's rubber plantations, the Department of Agriculture in the Caraga Region (DA-13) says it has stepped up measures for the industry from the threat of Pestalotiopsis or rubber leaf fall disease. According to DA-13 Regional Technical Director Abel Wagas, Pestalotiopsis is a deadly disease that can severely affect the productivity and profitability of rubber plantations in the country, particularly in Mindanao.
Pestalotiopsis is a fungal disease caused by the pathogen Pestalotiopsis sp. and is considered an emerging grave threat disease for rubber trees. It can cause leaf defoliation and reduce productivity up to 70 to 90% for the worst affected rubber farms.
Data provided by the DA's High-Value Crops Development Program (HVCDP) indicated that the leaf fall disease was detected in Agusan del Sur rubber trees in April this year.
To date, 8 ha of rubber farms in the province with 3,900 rubber trees are affected, with about 40 to 60% severity.
These rubber farms are located in Barangay New Visayas in Trento municipality and Sitio Tagbanao, Barangay Awao in Sta. Josefa town.
The DA-13 expressed concern that Pestalotiopsis may spread rapidly to other rubber farms in Agusan del Sur and the nearby provinces as it is considered an airborne disease.
The disease was first discovered at rubber farms in the Zamboanga Peninsula in July 2022 and in Basilan province of the Bangsamoro Autonomous Region of Muslim Mindanao (BARMM) in December last year.
Dailinda Mamalis, the DA-13 HVCDP coordinator, said the agency has allotted PHP376,500 for the procurement of fungicides to help the growers treat their affected rubber trees.
An additional PHP199,100 funding was also set aside to support the Regional Crop Protection Center in Caraga for their laboratory supplies and chemical and filtering activities.
"We are also intensifying our communication activities to help our rubber growers understand the nature of pestalotiopsis and the different treatment approaches and contain its spread," Mamalis said.
Rubber farming is among the vital agri-sector in Caraga as the industry provides a significant source of income for farmers and contributes to the overall economy of the area.
As of 2022, the region has 13,176 ha of land areas planted with rubber with an average yield of 2.06 tonnes/ha.