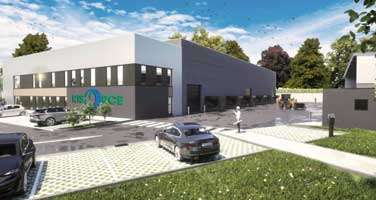 Belgian start-up Risorce has successfully raised EUR12.5 million for the construction of a facility to recycle used tyres. Unlike other recycling plants, the company will turn tyres into usable petroleum and gas products, it adds.
Based in Baelen (Liège province), the tyre recycling plant should be operational by the end of 2024, or in early 2025. The plant will be able to process the shredded material from 2.4 million tyres and 18,000 tonnes of tyre granulates.
The recycling process, first pioneered by Bosnian company SGI Technology, has the benefit of reducing CO2 emissions compared to other recycling methods and allows for local solutions to rubber recycling.
The plant will treat the tyre materials using a non-catalytic pyrolysis process. This means that the materials will be decomposed using heat. The end result of this process should be tyre pyrolysis oil, which has similar properties to petroleum, as well as black carbon and gas. The company says that European petrochemical companies are already poised to buy the end products.
Risorce picked the Liège province location due to its strategic location (tyre materials come from Dutch Limburg) and the relatively large pool of potential employees in the area.
In Europe, every year, more than 3 million tonnes of end-of-life tyres are collected and treated through various recycling and recovery processes. It is estimated that 29 million tonnes of vehicle tyres reach the end of their lifespan each year.
The EU banned tyres from landfills due to the risk of heavy metals and other pollutants leaking toxins into the water table.