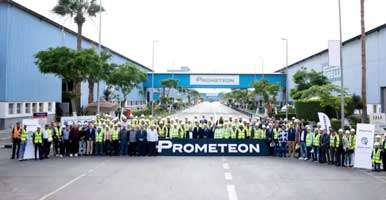 Italian tyre maker Prometeon Tyre says that it will be investing around EUR30 million for technological upgrading of its facility in Alexandria to bring production up to 1.1 million tyres/year, while enhancing the quality procedures.
Prometeon says the upgrading includes technology upgrades at the Egyptian factory and an increase in the production of Serie 02 tyres.
It has already invested in a EUR25 million package that is already partly invested to sustain R&D activities in the R&D facilities in Turkey, Italy, and Egypt.
"The Egyptian market is one of the key markets for PTG where we're expanding on all levels achieving EGP5.2 billion, reaching over 2,000 employees and exporting to 65 countries. This year, with the significant government efforts to renovate old roads, the construction of new road networks, and Egypt's GDP growth of approximately 3.3%, we are expecting a heavy transport market demanding more value-added services and quality products. As a result, our 2023 goal will focus on meeting the Egyptian market demand by launching innovative tyre solutions in Egypt this year, prioritizing efficiency, safety, and product quality," Stefano Ziliani, CEO/Managing Director at Prometeon Tyre, commenting on 2023 Egypt's vision said.