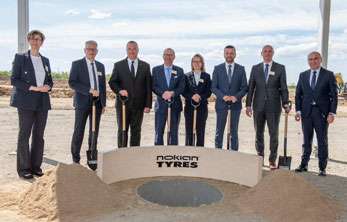 Nokian Tyres recently broke ground at its new passenger car tyre factory in Oradea, western Romania, one of the biggest greenfield investments in the country in recent years. Nokian says the factory in Oradea, which will require a total investment of about EUR650 million, will be the tyre industry's first zero CO2 emission factory.
Commercial production in the factory is scheduled to start in 2025, serving customers especially in Central Europe.
The greenfield factory is being built in the north-west of Romania in the city of Oradea, an important regional and European hub of many transport routes. The capacity of the facility will be 6 million tyres/year, with expansion potential in the future.
The factory will produce mainly larger rim size passenger and SUV tyres that will be primarily sold in the Central European market. The site will also house a distribution facility for storage and distribution of tyres. The combined built-up area totals some 100,000 sq m.
The planned headcount of the Romanian factory is about 500 people. Nokian Tyres will hire people both for production as well as managerial positions. The recruitment will accelerate in 2024 and continue until the complete workforce of the factory has been hired and the factory starts its operations.
Nokian Tyres is waiting for the final decision from the EU for its EU funding application for some EUR100 million for this factory, which the Romanian government already approved earlier this year.