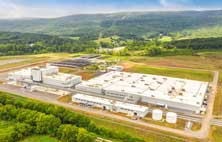 To increase output capacity to 24/7 production at the facility, Finnish tyre maker Nokian Tyre is adding its third and fourth production shifts at its US factory – the third was launched in mid-May, and the fourth shift in mid-July.
Related: Nokian Tyres starts testing in Spain test centre
Adding shifts is part of Nokian Tyres's plans to produce as many as one million tyres at the Dayton factory in 2021. Once the facility reaches full capacity in the coming years, Nokian estimates it to make up to four million tyres annually.
Nokian Tyres started production at the Dayton factory, which produces all-season and all-weather tyres in January 2020 to serve rising demand for its products in the North American market.