The demand-supply disruption of rubber presents opportunities for tyre makers to explore novel and sustainable sources of rubber, according to Angelica Buan in this report.
Technology to stabilise NR supply
Asia, which accounts for over 90% of global natural rubber (NR) supply, is witnessing a production slump in recent months that is likely to continue to remain languid in the short term. According to a recent forecast by the Association of Natural Rubber Producing Countries (ANRPC) released for April, world supply of NR is likely to remain low during May due to wintering of rubber trees and off-season of NR supply, not to mention the surge in Covid-19 cases, labour shortage, and poor production.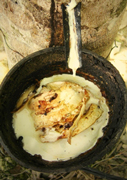 All these factors in the region are disrupting supply from key rubber producing Asian countries, including Thailand, Indonesia, Malaysia, Cambodia, India and Sri Lanka. While production is anticipated to start increasing from June, the weak supply from previous months is already putting pressure on the tyre sector to fill the rebounding global demand.
For this reason, major tyre makers are addressing rubber shortages with sustainable solutions via new technologies and material innovations.
Continental hones into Indonesia's rubber traceability
German automotive parts and tyre maker Continental, together with the German Federal Ministry for Economic Cooperation and Development (BMZ), are embarking on a project that would benefit thousands of Indonesian small rubber farmers. Indonesia is a major NR producer and an estimated 80% of its rubber output is produced by small farmers. The project can also realise Continental's goal to achieve 100% sustainable supply chains by 2050.
The purpose of the project is to document the NR supply chain in Indonesia's West Kalimantan in Borneo with digital traceability system. The Kapuas Hulu district, Continental and BMZ's project site, has two national parks that have been designated as biosphere reserves by UNESCO.
Continental and BMZ, who are both members of the rubber sustainability organisation Global Platform for Sustainable Natural Rubber (GPSNR), have already used a digital traceability system for NR in the project region in 2018.
The system works by documenting all steps of the NR supply chain, which can be evaluated in detail: from cultivation to further processing at Continental's tyre plants. The cultivation areas mapped by GPS, raw rubber delivery quantities and sales prices achieved are documented in the system for each transaction. For the further processing of the raw rubber produced in the project and in the implementation of the traceability, the partners have worked with NR suppliers that are also members of the GPSNR. These include Southland Global and Halcyon Agri Corporation, which has recently been cited in the second SPOTT (Sustainability Policy Transparency Toolkit) assessment, a sustainability framework by international conservation charity, ZSL (Zoological Society of London), as the most transparent rubber-producing company, rising a notch from the previous assessment.
The digital traceability project will involve 4,000 small farmers in the NR sector by 2024. They are trained to grow high-quality raw materials in compliance with clearly defined sustainability criteria. Improving the quality of raw material will result in higher income for the small holders. Additionally, a sustainable supply chain also minimises, if not eradicates, environmental, human-rights and social risks.
Diversifying from the traditional source with guayule
Due to the volatility of NR supply, manufacturers are compelled to source NR locally at a higher price compared to sourcing the commodity at a cheaper price overseas. Another alternative to make up for the scarce polymer is to utilise plant-based or other renewable materials like grass, trees, wood chips, soybean, orange and coffee beans, to make "rubber" for tyres!
As a potential commercial rubber source, and sustainable alternative to the rubber tree Hevea brasiliensis, guayule has shown huge potential for tyre applications. Guayule, a shrub that thrives in semi-arid regions in Mexico, Southern US, as well as in European Mediterranean countries, is found to yield high-quality rubber that has comparable molecular weight as the Hevea rubber.
Helming the guayule development is Tokyo headquartered Bridgestone, which launched its guayule R&D efforts in 2013 and has recently collaborated with Kirin Holdings Company, a Japanese company engaged in the manufacture and sale of beverages and pharmaceutical products.
To create a new technology for improving guayulederived NR productivity, the project will combine the technologies of Kirin with the guayule cultivation expertise of Bridgestone to deliver large-scale propagation of guayule plants from high-quality seeds. With this innovation, Bridgestone says it aims to increase the productivity of guayule farms and advance sustainable materials for tyres.
Bridgestone will field test the new technology on guayule seedlings grown at its 287-acre Agro Operations Research Farm in Eloy, Arizona. The new technology, according to Bridgestone, may also be used to support the guayule breeding process to more rapidly increase a desired genotype for testing and production, as well as to produce biobased rubber for other practical applications.
In addition to the farm, Bridgestone operates the Biorubber Process Research Centre in nearby Mesa, Arizona, where a team processes guayule-derived rubber for testing in tyre applications.
Meanwhile, Goodyear Tire & Rubber Company is also upping its commitment to responsible sourcing of raw materials with a new sustainable soybean oil procurement policy that applies to all soybean-based materials sourced by Goodyear operations worldwide.
The tyre maker said that it aims to help guide processors, farmers, and all other members of the supply chain to establish practices and make sound environmental and social decisions related to the growing, harvesting, and processing of soybeans.
Relatedly, Goodyear, which is targeting to replace petroleum oil in its products by 2040, has increased its use of sustainable materials, including soybean oil, in its products. In 2020, Goodyear increased soybean oil use by 73% against its 2018 usage.
Goodyear, with support from the United Soybean Board, has developed a soybean oil-based tread compound. The soybean oil, which is found to help keep a tyre's rubber compound pliable in changing temperatures, is used to replace some or all petroleum-derived oil in the tyre.
Recycled materials to make green tyres
The tyre industry's quest to develop tyres that meet global sustainability standards does not end in producing fuel efficient, low rolling resistance (LRR) tyres. Companies also hone in sustainability across the tyre's lifecycle, from raw materials used to end-of-life recycling, to achieve zero waste manufacturing.
French tyre manufacturer Michelin is forging ahead with its target of achieving 100% sustainable tyres by 2050. To achieve this, Michelin is adopting the use of biosourced, renewable materials. Its latest venture is utilising biochemistry company Carbios's enzymatic recycling process for PET plastic waste to create a high tenacity tyre fibre to develop fully sustainable tyres. PET is the raw material for one of the main textile fibres used in tyre reinforcements.
According to Carbios, its enzymatic recycling process uses an enzyme capable of depolymerising the PET contained in various plastics products such as bottles, trays, polyester clothing, and others. This innovation allows infinite recycling of all types of PET waste. It also allows the production of 100% recycled and 100% recyclable PET products, with the same quality produced with virgin PET.
Likewise, the technical fibre obtained from this process also exhibits breakage resistance, toughness, and thermal stability, making it suitable for tyre applications.
Synthetic rubber butadiene from biomass
The rush of demand for tyres has likewise pushed not only the prices for butadiene, a synthetic rubber used for car and truck tyre treads, to go up, but its supply to fluctuate.
Producing butadiene from biomass is expected to fender occurrences of tight supply of the material and most importantly, reduce dependence on petroleum-based products, such as naptha-derived butadiene, to cut down the tyre industry's carbon footprint.
Michelin has had its hand in producing butadiene from biobased materials such as waste wood, rice husks and corn stover. Its BioButterfly project, launched in 2012, has led to a collaboration with Axens and IFP Energies Nouvelles to produce bio-sourced butadiene, thus enabling the utilisation of about 4.2 million tonnes/year of wood chips for Michelin tyres. The project has also led to the construction of France's first industrial demonstrator on Michelin's site in Bassens, where the company is already using petroleum-butadiene to manufacture its synthetic rubbers for the European market. The French plant will produce butadiene from biomass-derived ethanol, and is intended to yield up to 30 tonnes/year of the bio-sourced feedstock.
Elsewhere, Japanese tyre maker Yokohama Rubber has developed what it claims to be the world's first technology for producing butadiene from biomass. The technique of creating cells with butadiene-producing ability using new artificial pathways and enzymes was achieved by the Bio-monomer Production Laboratory, jointly established with Tokyo-based scientific research institute Riken and Japanese synthetic rubber producer Zeon Corporation.
Previously, in 2018, the lab pioneered in using a new artificial pathway and highly active enzymes to create cells with isoprene-synthesising capability. The technology has achieved an integrated process that uses a biomass (sugar) generated in the cells to trigger the production of the isoprene.
Today, the butadiene technology offers the possibility to go through cheaper intermediates than conventional metabolic pathways and, thus, enables to reduce the cost of butadiene fermentative production. Moreover, the team has produced polybutadiene (PBD) rubber from the butadiene produced from this new technology.
The collaborators, who have been working in a joint project since 2013, will be conducting research to establish more highly productive enzymes and an efficient purification technology by combining their expertise and technologies.
In a similar undertaking, US materials company Trinseo and Russia-headquartered ETB Global are joining forces on the development of purified biobased 1,3-butadiene.
The partners will be exploiting ETB's unique singlestage process to produce the butadiene from ethanol using polyfunctional catalyst technology. The collaboration will initially focus on demonstrating the viability of sustainable ethanol-based synthetic rubber.
The two companies are also eyeing the construction of a dedicated biobased 1,3-butadiene pilot plant in Europe, which is intended to have a purification unit to achieve a purity target of 99.7%.
Trinseo explains that achieving close to 100% purity for ethanol-derived biobased butadiene can allow its customers to develop more sustainable products without compromising on performance. The pilot plant evaluation study is expected to be completed by the close of 2021.