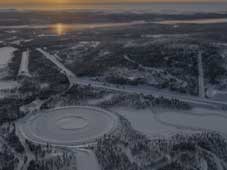 Finnish tyre maker Nokian Tyres has begun testing in the new test centre in Santa Cruz de la Zarza, Spain, which features a 7-km long oval track that circles the area, and with all 10 tracks being used to test the tyres in extreme conditions.
The versatile tracks and modern equipment of the Spain test centre enables Nokian to test tyres on wet and dry. Also known as Hakka Ring, the test centre, according to Nokian allows the company to speed up the product development cycles and to strengthen its position as a manufacturer of premium tyres.
Construction work of the test centre began in 2018. Due to COVID19, construction work was halted for a brief period but continued once the situation stabilised and necessary safety measures were taken. Now all the different tracks have been finalised. The Visitor Centre is also ready for use. The Spain test centre is its third testing facility complementing the company's tyre testing network, which consists of a 700-hectare site in Ivalo, Finnish Lapland, and a site near its Finnish headquarters in Nokia.