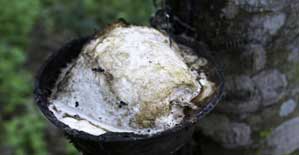 The Malaysian Rubber Board (MRB) and Singapore-based technology company Agridence Rubber Pte Ltd have tied up in a technical collaboration to set up a digital trading platform for sustainable natural rubber.
MRB and Agridence said the scope of the cooperation is to develop an integrated end-to-end trade and traceability system to streamline the transition towards regulatory compliance and sustainability with the final goal to provide Malaysian Sustainable Natural Rubber (MSNR) to the stakeholders.
According to the joint statement, the agreement marks a new milestone for the rubber industry to integrate digital traceability systems to promote transparency and sustainability of Malaysian natural rubber. "This one-year project has started on 2 October 2023," it said.
The statement said the pilot project between MRB and Agridence paves the way for an innovative and collaborative endeavour, focused on harnessing technology to facilitate extensive data sharing and the integration of digital traceability systems.
"Agridence and MRB will jointly establish a robust framework for seamlessly sharing and integrating data, including traceability data spanning the entire rubber production process, distribution, and processing."
"The integrated data will be linked with the Agridence Rubber Platform, where physical natural rubber trades take place between Malaysian rubber producers and buyers," it said.
MRB says it is active in digitalising the domestic rubber supply chain through initiatives such as the Rubber Transaction Authority Permit (PAT-G) for smallholders, RRIMniaga application for dealers, e-Rubber Processor (e-RP) for processors, and e-Rubber Manufacturer (e-RM) for manufacturers.
It said the digitalisation enables a partnership with Agridence, ensuring end-to-end visibility of natural rubber, and furthering the MSNR initiative.