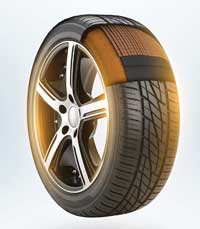 Turkey-based reinforcement technology company Kordsa, which claims to cover one out of every three tyres manufactured worldwide, has entered into a collaboration with German connected electronic products and systems firm SES RFID Solutions GmbH. The companies will combine the patented SES technology with Kordsa's material expertise to develop a small, flexible RFID tag to embed in vehicle tyres before vulcanisation.
Radio Frequency Identification (RFID) uses an electronic chip for contactless transmission of data when placed in the field of a reader. Once embedded in tyres, the RFID tag allows global traceability from production to end of life with data benefits for the tire manufacturers, automotive OEMs, distributors, and fleet management companies.
The SES WIRETX RFID tag does not require a battery and includes an external flexible antenna. When combined with Kordsa's material technology it provides easy application before vulcanisation and becomes an integral part of the tyre during its lifetime. The prototype sampling is planned for Q3 2022.
Burak Ilgun, Kordsa Market Development Project Manager and the Project Manager of RFID commented on the cooperation and stated, "At Kordsa, we are inspired to reinforce life. We believe RFID technology is an important step to enable the transition to connected smart tyres that will benefit the end-users and all parties in the tyre value chain. Two companies with expertise in their individual fields and a common vision, joined forces to bring connectivity technology to tyres. We are excited about the collaboration with SES RFID."