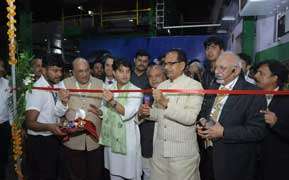 India's JK Tyre & Industries Ltd. has announced the completion of the first phase of capacity expansion of its manufacturing facility located in Banmore, Madhya Pradesh. With an investment of about INR10,000 million, the company has planned a two-phased expansion at its existing Banmore facility to cater to the increasing demand for passenger car radial (PCR) tyres.
The phase one expansion, involved an investment of INR3,120 million. The expansion will increase the annual production capacity of the plant by 31%, from 3.9 million to 5.1 million units/year.
JK Tyre is now in the second phase of expansion, with an additional investment of INR6,170 million that will increase the capacity by an additional 31% by April 2024.
During the ceremony, Dr. Raghupati Singhania, Chairman & Managing Director of JK Tyre emphasised the strategic importance of this expansion as India embarks on its 25-year journey towards becoming a developed democracy, fostering regional prosperity by engaging with the global economy.
Over the years, the 211-acre facility has emerged as a significant landmark, spearheading industrialisation in the region and creating direct and indirect employment opportunities for nearly 15,000 individuals in the state. This expansion will generate additional employment for over 7,000 people in the region, resulting in increased regional economic growth.